Found Horse Near Greer, SC, 29651
NetPosse ID #
: 2619
FOUND, do you know me?
Gender
: Gelding
Species
: Horse
Breed
: Gaited
Description
: Was frantically running down Hwy. 296 near Brockman McClimon Rd., Greer, SC 29651. He was caught by neighbors across from my farm and brought here to be kept safe until owner could be located. He is bay with no white markings and about 14.2h approximately 18-20 years old.
Area Found
: Greer, SC, 29651
Date Found
: 7/4/2019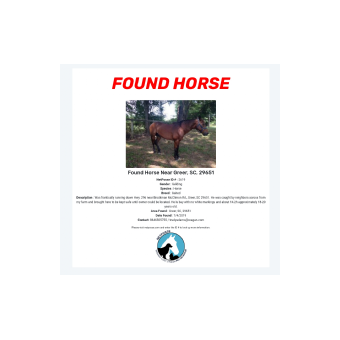 Attachments
There are no attachments to this entry.