Missing Horse Near Memphis, TN, 38109
NetPosse ID #
: 2577
MISSING, have you seen me?
Name
: Sexy One
Gender
: Colt
Species
: Horse
Breed
: AQHA
Description
: 1 year old dark gold Palomino stud colt about 14hands tall was last seen on 6/23/2019. He is missing along with a large sorrel and white paint mare about 10 years old named Noni. If you have any information regarding the two please contact John.
Area Last Seen
: Memphis, TN, 38109
Date Lost
: 6/23/2019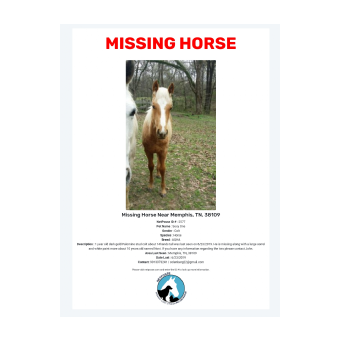 Attachments
There are no attachments to this entry.