Stolen Horse Near Shelby, NC, 28150
NetPosse ID #
: 2513
STOLEN, have you seen me?
Name
: Idaho
Gender
: Mare
Species
: Horse
Breed
: Racking Horse
Description
:
We woke up and looked out in our pasture and notice that Idaho was not there. Later we found the fence had been cut and saw hoof tracks on the dirt road.
Area Last Seen
: Shelby, NC, 28150
Date Stolen
: 9/26/1997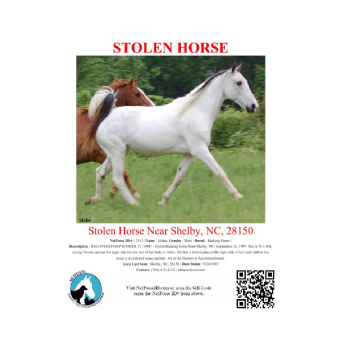 Attachments
There are no attachments to this entry.