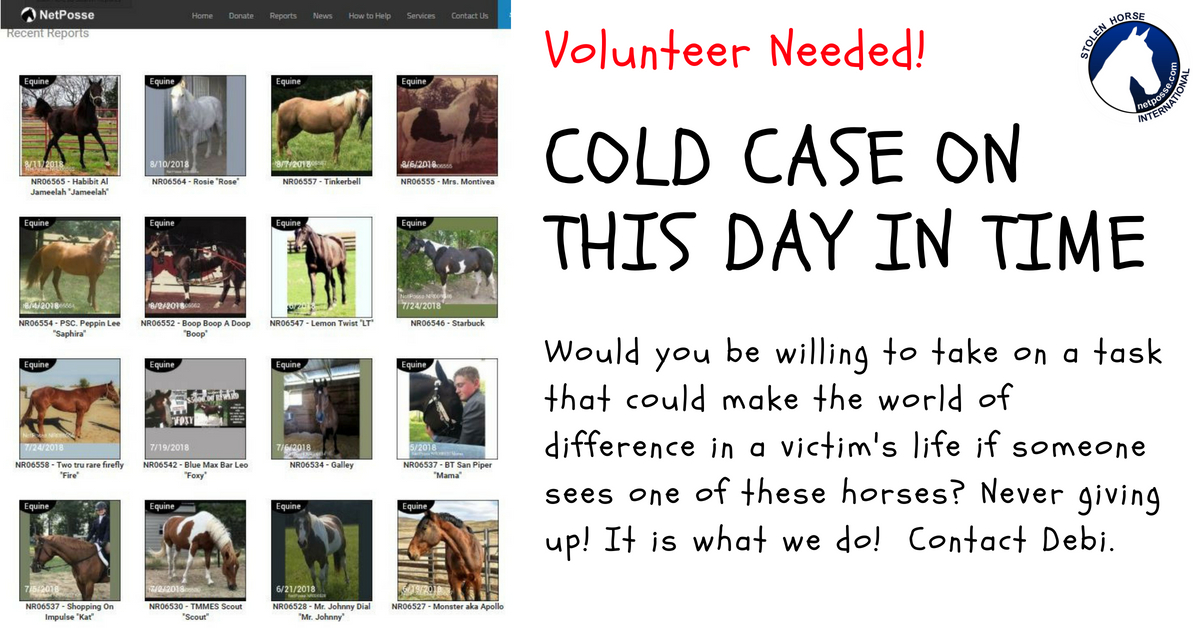 We need someone to volunteer to do the COLD CASE ON THIS DAY IN TIME post on Facebook - It is easy!
We want to make sure that we get our cold cases out to the public. ? Maybe someone did something nice for you and you'd like to 'pay it forward' perhaps?
You never know when one of our horses landed with a nice home, where the family has no idea someone is searching for their beloved horse. Here is a chancce to possibly give closure to a victim who has worried for years over their horse.
This is an easy assignment. You can do the post all at one time for the month or one each day.
Contact Debi Metcalfe by using the CONTACT US tab on our website to volunteer or find out more info.
Here is a simple format to follow. Check out our timeline on Stolen Horse International, Inc. aka NetPosse.com this month for examples each day. Here is the format:
COLD CASES ON THIS DAY IN TIME: These are some of the old unsolved cases we still have on our website. If a horse can still be alive by age then perhaps the horse is still out there somewhere. H ave you seen them?
[HEADLINE ON WEBPAGE] [LINK] [PICTURE COPY & PASTED FROM WEBPAGE]
[HEADLINE ON WEBPAGE] [LINK] [PICTURE COPY & PASTED FROM WEBPAGE]
NOTE: For more info on each case, click the link and go to their webpage for details. Owners have not maked these cases as solved.
#coldcase
#stolenhorse
#missinghorse
#netpose
#stolenhorseinternational