Now we tend to hold back on saying something is going on. We're reserved like that. But we are hearing things-some people are filing with us-some, for whatever reason, do not. That's their business. We'll help them if they want. We offer our services, but they make up their own minds.
We think, but have no way of proving, that for every case filed with us, that there is probably as many as ten more out there-perhaps more that we haven't heard of. THAT, folks, is scary. Big time scary.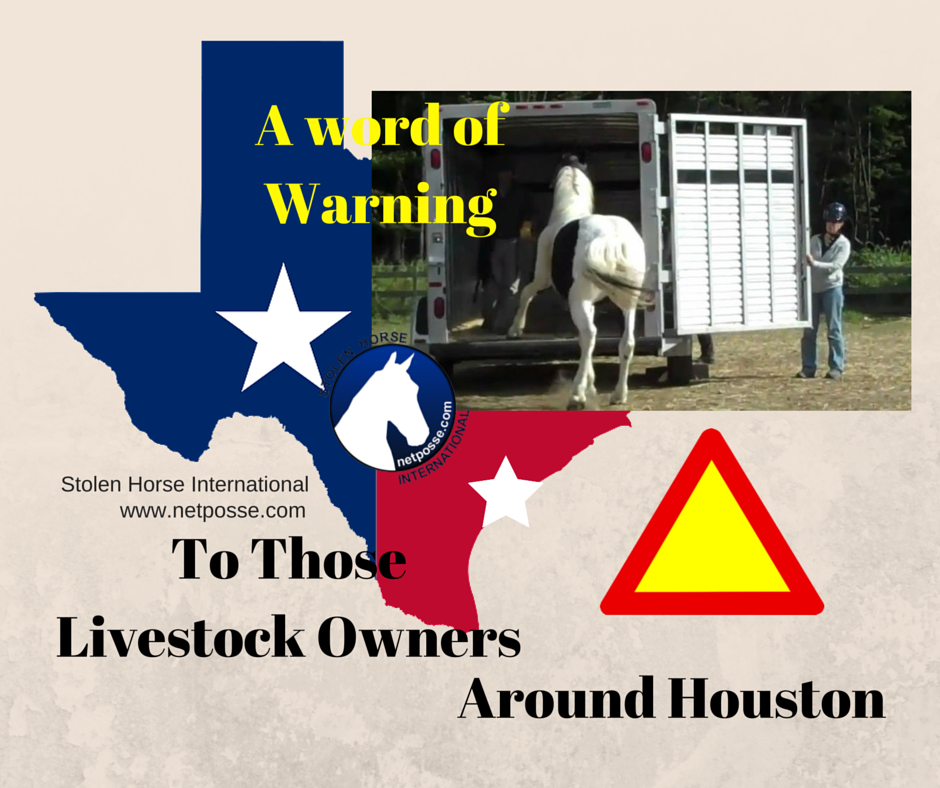 We've been able to locate some of them-Arabella is one. But we are still looking for Bullseye and Tara. There are others.
From the Houston TV2 News Channel-
A horse has been reported missing from a ranch near Brookshire and now the horse's owner wants to warn others. Michelle Moffitt believes someone stole her beloved, 5-year-old horse named Bullseye, right off her property in the middle of the night.
She says the horse didn't wander off because the area is secured and fenced and only a human could operate the gate.
"I believe someone drove up here," Moffitt said. "I think they surveilled our ranch, they took a look at our place and found an animal they wanted to take."
Moffitt reported her missing horse to the Waller County Sheriff's Office and to Stolen Horses International, Inc. They operate a website and are known as a resource for lost, stolen or missing equines. The organization noticed a trend. In the past few weeks several horses had been reported missing not too far from where Moffitt lives, including one horse from Cypress. According to that owner, the 14-year-old horse was taken from a barn at about 10 p.m. on Jan. 5. They obtained grainy surveillance video that they believe shows a truck and horse trailer coming onto their property.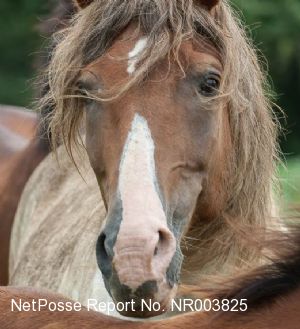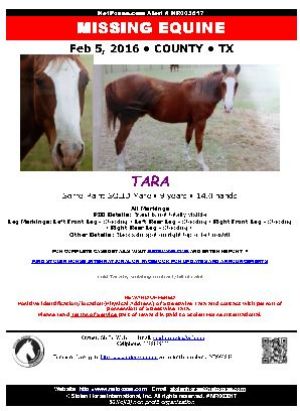 Moffitt believes this is the work of several people who are luring these animals onto trailers and then driving off. She wants to get the word out and let other horse owners know this is happening.
"Lock up your gates, bring your animals close to your house," she said. "These people appear to be coming in at night and doing surveillance and they know what they are doing." http://www.click2houston.com/news/owner-has-warning-after-horse-theft
Please watch for our ALERTS-keep them handy-and pass along to your contacts. These horses can appear anywhere-in your barn where you board, in a sale, your best friend shows up riding a new horse, or maybe at a show or trail ride. Always keep in mind that rescues may see these horses in a run down condition. Some one could purchase them as a project horse. You never know.
Our records are showing primarily in east and central Texas, but in 2016, it was pretty much the entire state, and went on up into Oklahoma, Kansas, Louisana, Arkansas, and Missouri. There is NO reason to think these people will stop If your horse is pastured with cattle, they will just run the horses up with the cattle at the same time.
See our website for details on hints on how to better secure your property and livestock.