Stolen Horse Near Houston, TX, 77045
NetPosse ID #
: 3291
STOLEN, have you seen me?
Name
: Ginny
Gender
: Female
Species
: Horse
Breed
: Quarab
Description
: Stolen between 8pm on Saturday (5/2/20) and 6am on Sunday (5/3/20). Thieves cut the fence and took her. Police report has been filed. She is a small chestnut mare (14.2 hands), white blaze, left hind foot white.
Area Last Seen
: Houston, TX, 77045
Date Stolen
: 5/2/2020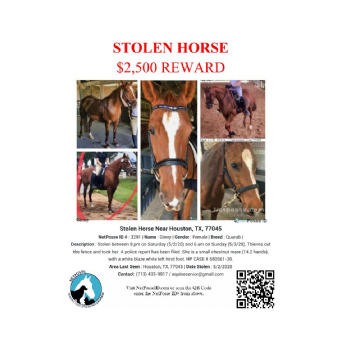 Attachments
There are no attachments to this entry.