Searching For Horse Near Kansas City, Mo, 64134
NetPosse ID #
: 3282
SEARCHING, have you seen me?
Name
: Diago---REWARD! UPON RETURNED ALIVE AND SAFE!!!
Gender
: Gelding
Species
: Horse
Breed
: 17 yr old Tri Color Tobiano Paint
Description
: REWARD UPON RETURNED SAFE AND ALIVE!!!! Horse was last known to be in Kansas City, Mo. located at Bannister Rd & Farley on a 97 acre private farm. If you see him and know of his location please contact me. Case No. 20028922
Area Last Seen
: Kansas City, Mo, 64134
Date Last Known
: 5/5/2020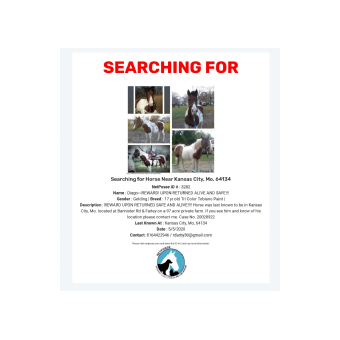 Attachments
There are no attachments to this entry.