Searching For Horse Near Eskridge, KS, 66423
NetPosse ID #
: 3261
SEARCHING, have you seen me?
Name
: Pistol
Gender
: Mare
Species
: Horse
Breed
: solid bred paint
Description
: Horse is involved in a situation between two parties and the former owner is searching for the horse. Have you seen this horse, if so please contact the person at the information below.
Area Last Seen
: Eskridge, KS, 66423
Date Last Known
: 4/26/2020 12:42:00 PM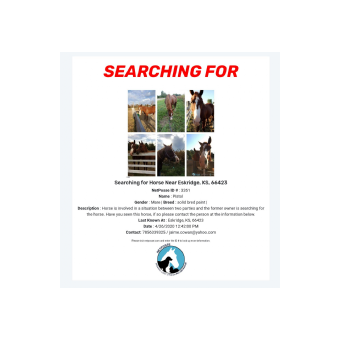 Attachments
There are no attachments to this entry.