Missing Horse Near Arlington , Tn, 38002
NetPosse ID #
: 3204
MISSING, have you seen me?
Name
: Vienna Sadie
Gender
: Female
Species
: Horse
Breed
: Quarter horse/ paint mix
Description
: Lost/stolen in Shelby County Tennessee in Arlington near Memphis city limits off Hwy 64. She is a solid white horse approximately 15 hands with a curly mane. She has brown eyes. This horse does not have on horseshoes. She has several scratches that may have black dirty spots around them. The largest of these is on the front left leg below the knee.
Area Last Seen
: Arlington , Tn, 38002
Date Lost
: 3/23/2020 11:16:00 AM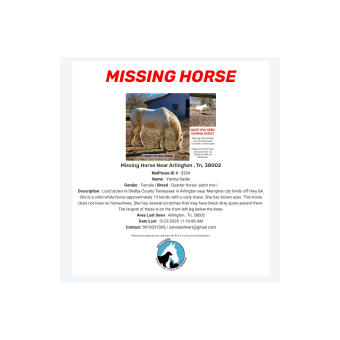 Attachments
There are no attachments to this entry.