Missing Horse Near Tallahassee, FL, 32327
NetPosse ID #
: 3201
MISSING, have you seen me?
Name
: Jack
Gender
: Gelding
Species
: Horse
Breed
: Thoroughbred
Description
: I'm searching for my horse, Jack, who was sold without my knowledge to a Georgia-based camp from the Tallahassee area. Sadly I have very little information relating to his whereabouts besides that, and I am trying desperately to find him or any information that might point me in the right direction. He is a 16.1 hand chestnut thoroughbred (tattoo # C18411), age 21, with a large scar on his back left leg below the knee. He also chews on his tongue almost all of the time - I've never seen another horse do it. I just want to find him to make sure he's safe and looked after. That is my biggest priority. If anyone has any information or leads, please do get in contact.
Area Last Seen
: Tallahassee, FL, 32327
Date Lost
: 3/18/2020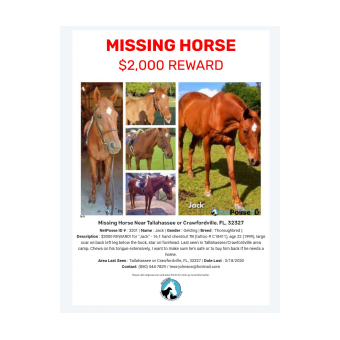 Attachments
There are no attachments to this entry.