Missing Horse Near Lakeland, FL,
NetPosse ID #
: 3145
MISSING, have you seen me?
Name
: Cayenne
Gender
: Mare
Species
: Horse
Breed
: Paint
Description
: Cayenne was adopted out Aug 2019 on a adoption contract which we thought was the perfect home for her! With many reference checks she passed with flying covers. She came out multiple times to play with cayenne and it was amazing! She signed our No Sale , No give away contracts which states all of our Rescue horses are to come back to us. We were in contact with this woman and lead to believe Cayenne was doing amazing. However we were just made aware that she no longer has her and in fact has been passed around 4 times and bred to a stallion all within 2 months !!!!! This mare is now missing! She was stolen out of this girls backyard who is legally not the owner she only had Cayenne for 2 weeks. She claims to have not known about the contract. Please help us get her home to us!!!
Area Last Seen
: Lakeland, FL,
Date Lost
: 2/2/2020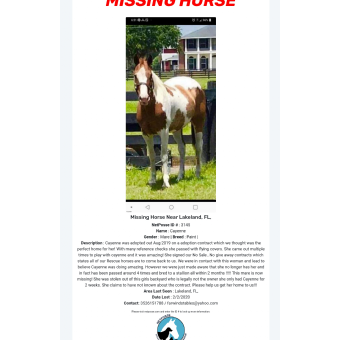 Attachments
There are no attachments to this entry.