Horse Cruelty Near Hamptonville , NC, 27020
NetPosse ID #
: 3100
Do you have important information to close this case?
Name
: Dottie
Gender
: Mare
Species
: Horse
Breed
: Appaloosa pony
Description
: Dottie was stabbed during the day or around dusk before she came into the barn that night for dinner. She was stabbed near the far back Fenceline at the edge of the woods.
Incident Area
: Hamptonville , NC, 27020
Incident Date
: 12/29/2019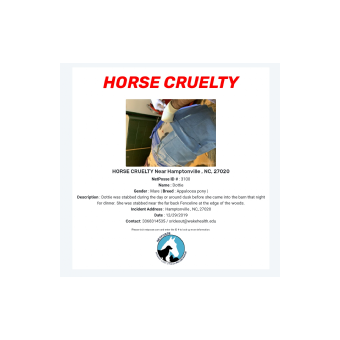 Attachments
There are no attachments to this entry.