Stolen Horse Near Bushnell, FL, 34785
NetPosse ID #
: 3014
STOLEN, have you seen me?
Name
: Jayda
Gender
: Mare
Species
: Horse
Breed
:
Description
: FLORIDA HORSE OWNERS BEWARE - POST THIS FLYER EVERYWHERE AND SHARE THIS ALERT! Jayda was stolen from Ananda Yarbrough and later found slaughtered! at Jumper Creek on Stewart's Ranch. If anyone saw a vehicle or truck and trailer any hour of the night of 12/10 12/11, please let us know or contact the Sumter County Sheriff's Office, Case #scs0190ff006430. We are not going to stop looking for who did this. LOCATION: 471 in Bushnell Florida by Jumper Creek. DID YOU SEE a horse being walked down the road, a trailer on side of the road, or anything that can be helpful? We will greatly appreciate your help. Please share share share
Area Last Seen
: Bushnell, FL, 34785
Date Stolen
: 12/11/2019 9:29:00 AM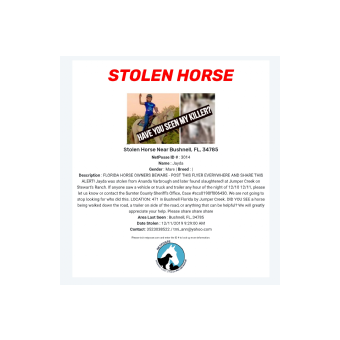 Attachments
There are no attachments to this entry.