Missing Dog Near Tyler , Tx, 75704
NetPosse ID #
: 2985
MISSING, have you seen me?
Name
: Honey Brunson
Gender
: Female
Species
: Dog
Breed
: Anatolian Shepard
Description
: Honey was taken during an eventing show that was held at Texas Rose Horse Park. She has a leather collar on her with medal plate that says Honey Brunson 817-683-8284 She is super friendly and wants to be with people always. We have alerted everyone around but in saying that she does not wonder off the property and never has. Someone took her. We do think it was someone from another state.
Area Last Seen
: Tyler , Tx, 75704
Date Lost
: 11/13/2019 1:09:00 PM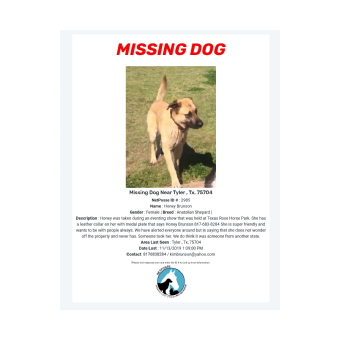 Attachments
There are no attachments to this entry.