Missing Horse Near Kremmling, CO, 80459
NetPosse ID #
: 2978
MISSING, have you seen me?
Name
: Lexi
Gender
: Mare
Species
: Horse
Breed
: Mustang
Description
: Horse was leased to hunter who lost her on 11/6/19. Camp was located 11 miles up Black Mountain Road off CR 2. Could be in Slide mountain, Black Mountain, Grouse mountain area.
Area Last Seen
: Kremmling, CO, 80459
Date Lost
: 11/6/2019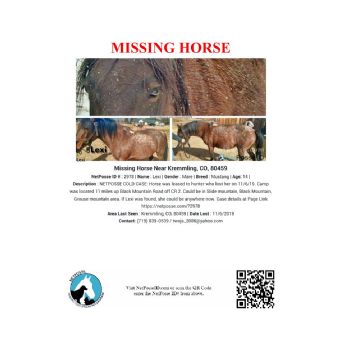 Attachments
There are no attachments to this entry.