Missing Horse Near Griffin, GA, 30224
NetPosse ID #
: 2970
MISSING, have you seen me?
Name
: Max
Species
: Horse
Breed
: Quarter Horse
Description
:
Boarding horses with an individual. Board was up to date, had a personal falling out completely unrelated to anything to do with horses, horses were to be removed, board was paid to Sept. 1, 2018. On August 20, 2018 a letter from attorney was mailed to the individual who then went to the law office and said the horses were sold. September 1, 2018 a third party along with Law Enforcement went to Individuals property to remove the horses and were told they were not there and had been sold. Giving various stories along the way and possible locations of Georgia and Indiana. Max has a two month old Cremello Filly by her side. Ginger is in foal. The horses can be anywhere.
Area Last Seen
: Griffin, GA, 30224
Date Lost
: 8/17/2018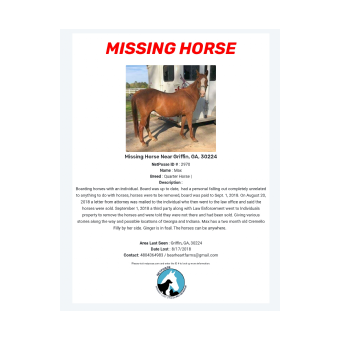 Attachments
There are no attachments to this entry.