Stolen Equipment Near Chelsea, OK, 74016
NetPosse ID #
: 2965
STOLEN, have you seen me?
Name
: Stolen Saddle
Make/Model
: Rodeo Saddle
Description
: I had saddles were stolen in the late 1990s and have tracked the Springdale senior all-around 1997 and It sold and sold again. The second seller's name is Kat Creel Thompson she lives in Cogswell ND. The problem is that she doesn't remember who she sold it to. In 2016 it was sold by Christy Wideman from Lott, TX. She sold it and that person sold a horse and the saddle together. Thank you to previous owners and sellers for taking the time and thinking so hard. Please help me bring it home for Christmas!! Reward!
Area Last Seen
: Chelsea, OK, 74016
Date Stolen
: 11/6/2019 8:46:00 AM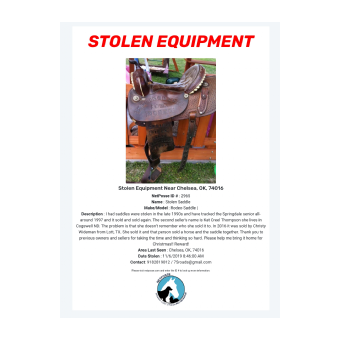 Attachments
There are no attachments to this entry.