Stolen Horse Near Snow Hill , Nc, 28580
NetPosse ID #
: 2941
STOLEN, have you seen me?
Name
: Journeys first Trip
Gender
: Gelding
Species
: Horse
Breed
: Palomino
Description
: He is an 11-year-old palomino gelding that stands 15 1/2 hands high. His markings are as follows head: blaze, his left hindlimb: stocking and right hindlimb:stocking
Area Last Seen
: Snow Hill , Nc, 28580
Date Stolen
: 10/24/2019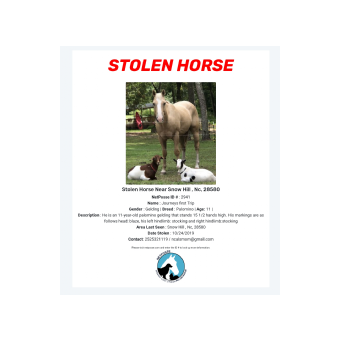 Attachments
There are no attachments to this entry.