Stolen Horse Near Alleyton, TX, 78935
NetPosse ID #
: 2924
STOLEN, have you seen me?
Name
: Millwoods Fanci This
Gender
: Filly
Species
: Horse
Breed
: Miniature
Description
: Stolen on July 17, 2014 Fanci could still be out there somewhere! STILL SEARCHING AFTER ALL THESE YEARS - $2000 REWARD My filly was taken from her stall at her trainer's barn. A stolen horse police report was filed. Fanci is very small about 29 to 30".. If you have seen or know where Fanci is, please contact Nicki Dowdle (214-213-4828) or Stolen Horse International.
Area Last Seen
: Alleyton, TX, 78935
Date Stolen
: 7/17/2014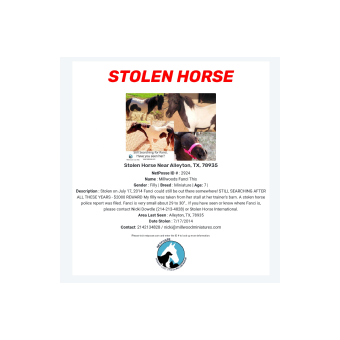 Attachments
There are no attachments to this entry.