Missing Horse Near Chaptico, MD, 20621
NetPosse ID #
: 2923
MISSING, have you seen me?
Name
: Ruger
Gender
: Gelding
Species
: Horse
Breed
: Canadian Warmblood
Description
: On October 8th, after entering into a sale for the registered horse Lexus, now being advertised as Ruger, he was taken across the border. Buyers failed to complete payment for this horse and were able to get him across the border into the USA. He is now being falsely advertised by the thieves in various sales locations across the USA. He is being advertised falsely as to his abilities, soundness and talents. These people have many aliases I have now found out and Animal Control and numerous Americans have had legal proceedings against these persons. I can provide the aliases. The horse is now expected to be in the Maryland area and the thieves are in Virginia area, under many different alias's. Please contact filer for Alias names. Police report filed. Canadian Fraud Agency report
Area Last Seen
: Chaptico, MD, 20621
Date Lost
: 10/17/2019 11:06:00 AM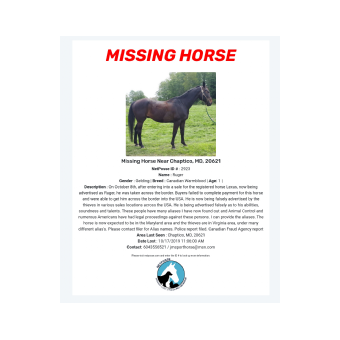 Attachments
There are no attachments to this entry.