Found Horse Near Idaho city, ID, 83631
NetPosse ID #
: 2920
FOUND, do you know me?
Gender
: Unknown
Species
: Horse
Breed
: Unknown
Description
: A hunter spotted these horses near Edna Creek in the mountains Northeast of Boise, Idaho (Near Idaho City). He did not have any way to get them out of there. He marked GPS coordinates of the location. I can assist with getting in touch with the person who spotted them if needed.
Area Found
: Idaho city, ID, 83631
Date Found
: 10/14/2019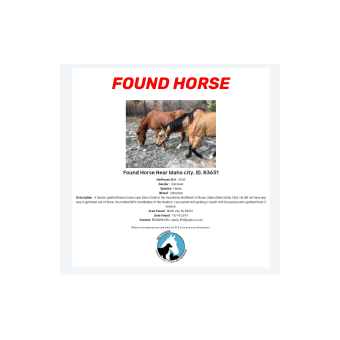 Attachments
There are no attachments to this entry.