Missing Horse Near Hamlin, Wv, 25523
REWARD $500.00
NetPosse ID #
: 2915
MISSING, have you seen me?
Name
: Candy
Gender
: Mare
Species
: Horse
Breed
: TWH
Description
: 4 year registered TWHBEA Mare registration number 21500497 registered name Sweet Cotton Candy she has been raised a city girl and until a month ago had never seen a trail or grass above her hooves,She took off on her own on 09/30/2019 she is extremely gentile and would normally never leave my side, she may have been looking for other horses I have tracked her to a hardened section of road where her tracks end, all inquiries in the area have led to nothing, Please help this baby girl to get home she has never been on her own and is used to being spoiled and is dearly loved and missed! Please call Curtis Keyser aka "Talks To Wind" at 724-409-0929/ 724-353-2262 or Marie Stone at 304-824-3403
Area Last Seen
: Hamlin, Wv, 25523
Date Lost
: 9/30/2019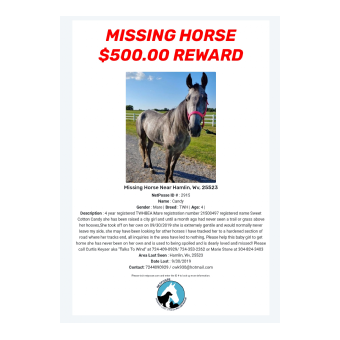 Attachments
There are no attachments to this entry.