Stolen Horse Near Houston, Tx, 77075
NetPosse ID #
: 2904
STOLEN, have you seen me?
Name
: Mijo
Gender
: Gelding
Species
: Horse
Breed
: Aztec
Description
: He was taken from our stables. If anyone has seen him or knows of someone that may have him please contact me. Any information will be kept anonymous.
Area Last Seen
: Houston, Tx, 77075
Date Stolen
: 9/27/2019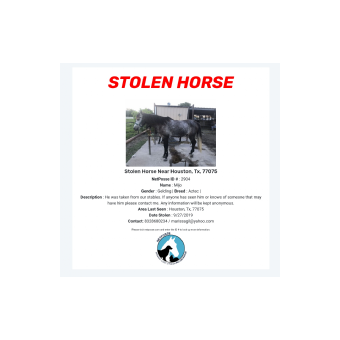 Attachments
There are no attachments to this entry.