Searching For Horse Near Murphy, NC, 28906
NetPosse ID #
: 2892
SEARCHING, have you seen me?
Name
: PL Charger
Gender
: gelding
Species
: Horse
Breed
: Saddlebred
Description
: Charger (our name) is safe and in his forever home! DNA tested Saddlebred. We are looking for his history circa 1996-2011. Was acquired by State of Georgia in spring 2011 from Long County GA, spent one year at Pulaski State Women's Prison, then auctioned. Slight from right club foot, scar tissue around back right. Wonderful sweet horse. Do you know him? In his 20s. Someone must have loved him; he is such a great boy!
Area Last Seen
: Murphy, NC, 28906
Date Last Known
: 10/1/2019 4:40:00 PM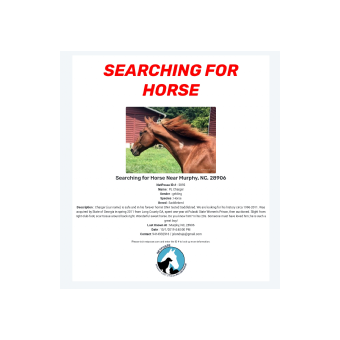 Attachments
There are no attachments to this entry.