Stolen Horse Near Oxford, Fl, 34484
NetPosse ID #
: 2866
STOLEN, have you seen me?
Name
: Alex
Gender
: Gelding
Species
: Horse
Breed
: Thoroughbred
Description
: Back fence in the paddock was cut and rolled back. Looks like someone pulled off the side of the road and cut another fence then loaded him in a trailer. Tattoo #k09930 Alex's Vision
Area Last Seen
: Oxford, Fl, 34484
Date Stolen
: 9/26/2019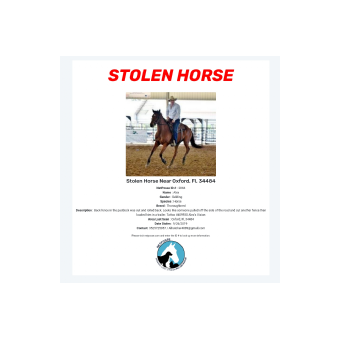 Attachments
There are no attachments to this entry.