Missing Horse Near Nicholson, GA, 30565
NetPosse ID #
: 2789
MISSING, have you seen me?
Name
: Bourbon
Gender
: Mare
Species
: Horse
Breed
: Quarter Horse
Description
: HORSE Stolen/Missing from Nicholson , GA SOLD MY HORSE (ask submitter for information) text claims she forgot where horse came from!!! 😠BUT THEN GUARANTEED & PROMISED SHE WOULD NEVER SELL TO ANYBODY THAT WOULD MISTREAT HER !!!! POLICE REPORT MADE !!!
Area Last Seen
: Nicholson, GA, 30565
Date Lost
: 8/28/2019 10:49:00 AM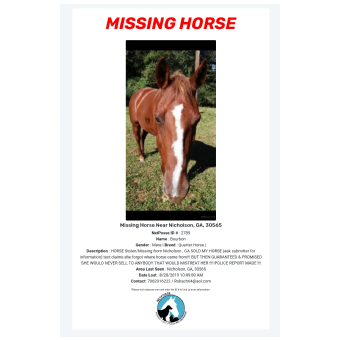 Attachments
There are no attachments to this entry.