Stolen Horse Near Enola , AR, 72047
NetPosse ID #
: 2780
STOLEN, have you seen me?
Name
: Lenas Tipsy
Gender
: Mare
Species
: Horse
Breed
: Quarter Horse
Description
: I left Lena in the care of a friend as I had relocated to Colorado and could not board all 3 horses. Not sure the circumstances but she was last seen 7-15-19. I texted him to check on her 8-13-19 and he went to check her and she was gone. My Friend sold his land to an individual. This man told my friend he could leave Lena there until he moved her. A family member of the new owner told a friends daughter that they had sold an old retired barrel horse in the time frame she went missing. After she put it together it was my mare he was talking about, I had found out she was gone and her mother told her about it, she sent him a message asking the color, if it was a sorrel color and he confirmed that it was. She asked where she went and she went to a kill buyer in Central Arkansas. This person does not own horses so I feel certain that this is Lena. For him to sell a horse that fit the description that he was given about her. That's where my lead goes dead. She has noticeable scarring on both front feet from where she paws and got in the fence.
Area Last Seen
: Enola , AR, 72047
Date Stolen
: 8/1/2019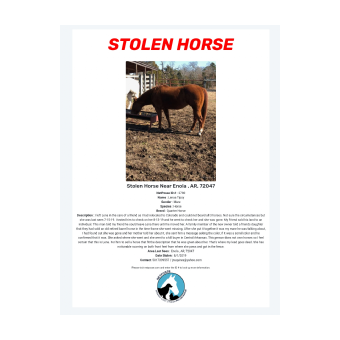 Attachments
There are no attachments to this entry.