Stolen Dog Near Aldie, VA, 20105
REWARD $2,000.00
NetPosse ID #
: 2767
STOLEN, have you seen me?
Name
: Camden
Gender
: Intact Male
Species
: Dog
Breed
: Pure bred Australian Shepherd
Description
: Last seen off Lenah Farm Lane, Aldie VA. 4 other dogs missing off same road. Tracker hired and scentnever left property, which means he was stolen.
Area Last Seen
: Aldie, VA, 20105
Date Stolen
: 7/1/2019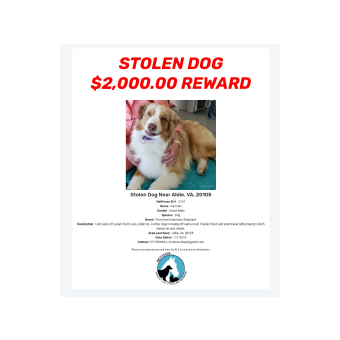 Attachments
There are no attachments to this entry.