Found Horse Near Pleasant Grove, CA, 95668
NetPosse ID #
: 2761
FOUND, do you know me?
Gender
: Stallion
Species
: Horse
Breed
: Lusitano/Lippizan
Description
: This horse is approximately 16 hands, grey with black mane/tail, and is a well-behaved stallion. He was found wandering the neighborhood lose, and Animal Control has no reports of a missing horse. We think he may be 8 years old or so. He has shoes with clips on. We have him secure, fed/watered, in a stall.
Area Found
: Pleasant Grove, CA, 95668
Date Found
: 8/7/2019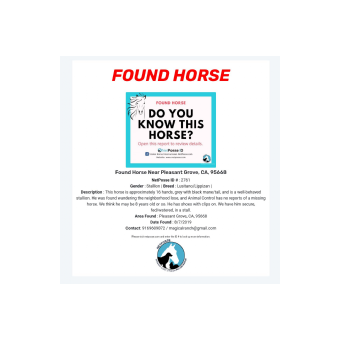 Attachments
There are no attachments to this entry.