Stolen Dog Near Hooper, Ne, 68031
NetPosse ID #
: 2755
STOLEN, have you seen me?
Name
: Bella
Gender
: Female
Species
: Dog
Breed
: Pit bull mix
Description
: Bella was on our farm in eastern Nebr, north of Fremont Nebr on May 22nd 2019, 18:30 went missing. Last seen wearing pink collar, Bella is chipped, spayed, 2.5 years old. Bella is blk, with white blaze on face, chest, white on toes. Right eye is blue. She is very sweet, knows her name. We miss her and want her back home with us. We believe she has been stolen by flippers and sold out of the state of Nebraska. Please help bring our girl home.
Area Last Seen
: Hooper, Ne, 68031
Date Stolen
: 5/22/2019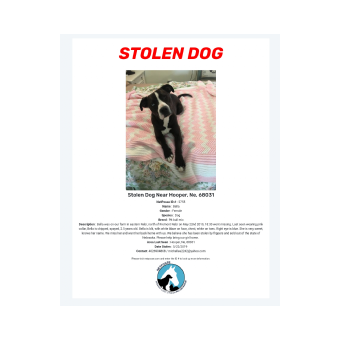 Attachments
There are no attachments to this entry.