Missing Horse Near Morriston, FL, 00000
NetPosse ID #
: 2715
MISSING, have you seen me?
Name
: Sunnybroad
Species
: Horse
Breed
: Thoroughbred
Description
: She was sent to Ocala for breeding and stayed at a barn while waiting to foal. My mother became seriously ill, which caused many medical bills, I was layed off my job and we were unable to make board payments for mother and baby, the barn owner took possession of Tiffany and sold her as a riding horse, The baby we turned over to the studs barn. I last saw her the day after she gave birth 02/2003. My mother has since passed away and I have secure employment. Tiffany is a large part of our family and is much loved and missed. I would like to find her to be sure she is OK and that they are aware that she has the history as a non-sweater, and bad feet which need feed supplements. Also, I would like them to know that at anytime in her life that they are looking for a home for her that I would like the chance to get her back, I feel I have betrayed her trust and let her down. She does not know why she never came back to us, there were 3 owners before we bought her and the plan was that she would live all her days with us. Tiffy was/is a wonderful horse, and will always have a home with me. Barn owners took possession of her for back board and have been told she was sold as riding horse. Their farm was in foreclosure, do not know if it was foreclosed on. They have not opened their email.
Area Last Seen
: Morriston, FL, 00000
Date Lost
: 2/1/2003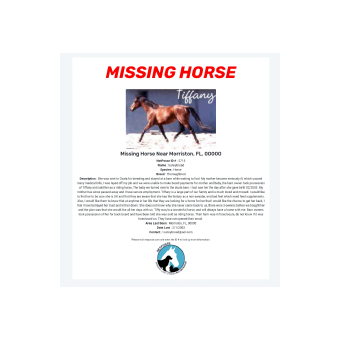 Attachments
There are no attachments to this entry.