Missing Horse Near Milton, GA, 300004
NetPosse ID #
: 2681
MISSING, have you seen me?
Name
: Lia
Gender
: Mare
Species
: Horse
Breed
: Irish Sport Horse
Description
: These 2 mares were taken from me under false pretenses. They were going to a new home with the agreement that it would be a forever retirement home where they would be used as a pasture mates only. I have found out that she breached our contract and they did not go to the retirement pasture she had promised. Instead, they are either shipped off to auction or a kill pen. If you have seen these horse or have any information regarding their whereabouts, please contact us immediately!
Area Last Seen
: Milton, GA, 300004
Date Lost
: 12/30/2017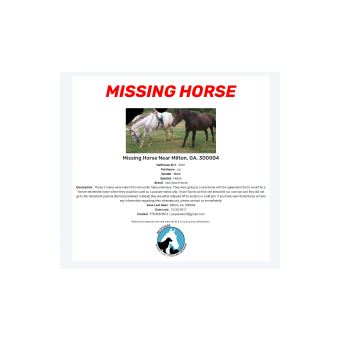 Attachments
There are no attachments to this entry.