Missing Horse Near Tallassee, AL, 36078
NetPosse ID #
: 2672
MISSING, have you seen me?
Name
: Ranger
Gender
: Gelding
Species
: Horse
Breed
: Morgan
Description
: A lady lied to me about needing a pasture companion for her barrel horse. She agreed to not rehome him but only to me if she no longer wanted him. On many attempts I tried to get a picture, or to go see him and she dodged my every attempt with some excuse. She acknowledged a written agreement, and also we had a verbal contract regarding Ranger.
Area Last Seen
: Tallassee, AL, 36078
Date Lost
: 10/20/2017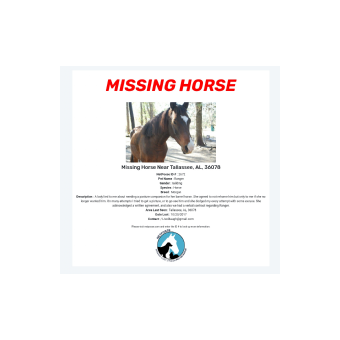 Attachments
There are no attachments to this entry.