Missing Horse Near cornersville , TN, 37047
NetPosse ID #
: 2667
MISSING, have you seen me?
Name
: 6T's J Lynn
Gender
: Mare
Species
: Horse
Breed
: Belgian
Description
: My house burned down so I was forced to rehome my mare in an emergency and the girl that I spoke with promised me my mare would have a great retirement home with her as a pasture mate to her barrel horse and because she was a vet student she had all access to excellent care for my mares cryoprobe treatments.
Area Last Seen
: cornersville , TN, 37047
Date Lost
: 12/13/2016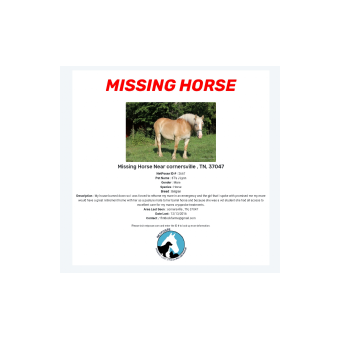 Attachments
There are no attachments to this entry.