Missing Horse Near Mt. Ulla, NC, 28125
NetPosse ID #
: 2652
MISSING, have you seen me?
Name
: Jericho
Gender
: Gelding
Species
: Horse
Breed
: Tennessee Walker
Description
: ****** ********* and her boyfriend came to my barn and picked up Jericho to be a pasture buddy for her barrel racing horse. She told me she was in vet school and needed a pasture mate for her horse.
Area Last Seen
: Mt. Ulla, NC, 28125
Date Lost
: 1/6/2018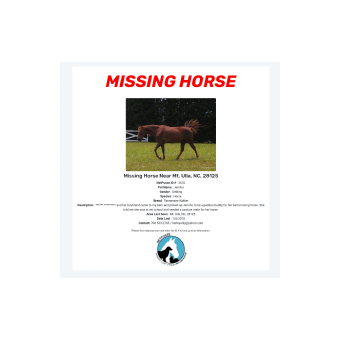 Attachments
There are no attachments to this entry.