Missing Horse Near Lancing , TN, 37770
NetPosse ID #
: 2651
MISSING, have you seen me?
Name
: Comanche
Gender
: Gelding
Species
: Horse
Breed
: Mustang
Description
: I was looking to rehome my gelding to a forever home. I was contacted by ****** *********, she claimed to be a vet student at the university of Tennessee and said she was looking for a pasture mate for her barrel horse, she talked with me for weeks before coming to pick up Comanche, when she got to me it was very late and she made tons of excuses and didn't have the full amount of the rehoming fee but I gave her the benefit of the doubt and sold him to her anyways (for basically nothing) she promised to keep in touch but cut all contact with me.
Area Last Seen
: Lancing , TN, 37770
Date Lost
: 12/22/2017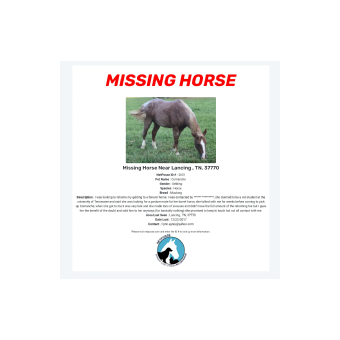 Attachments
There are no attachments to this entry.