Missing Horse Near Wagener, SC, 29164
NetPosse ID #
: 2643
MISSING, have you seen me?
Name
: Bon Bon
Gender
: Mare
Species
: Horse
Breed
: OTHER
Description
: ****** *********, using the same story that has been documented out on the web said that she wanted a pasture mate for her barrel racing gelding, had 18 acres in Alabama, was a 3rd year vet student at Tuskeegee U and would provide good homes. I did not authorize selling, reselling or slaughtering the mares and wanted them back if she couldn't take care of them.
Area Last Seen
: Wagener, SC, 29164
Date Lost
: 10/21/2017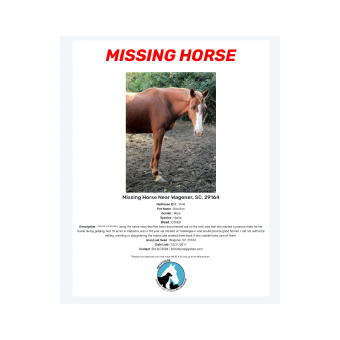 Attachments
There are no attachments to this entry.