Searching For Horse Near Bloomington , IN, 47401
NetPosse ID #
: 2623
SEARCHING, have you seen me?
Name
: Jaycee
Gender
: Gelding
Species
: Horse
Breed
: Appendix Quarter
Description
: I owned Jaycee for 20 then due to my health I returned him to the woman I purchased him from, who then gave him to a friend, and she then gave him to a family in Bloomington Indiana. Just want to know he's ok and possibly buy him back. He's a bay with a white ankle on his left rear leg, white spot on forehead, turned 28 on June 14. Any information on his whereabouts would be greatly appreciated.
Area Last Seen
: Bloomington , IN, 47401
Date Last Known
: 2/27/2019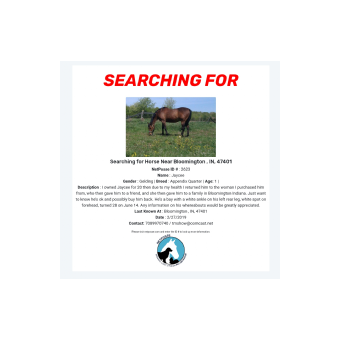 Attachments
There are no attachments to this entry.