Found Horse Near Sierra Vista, Az, 85650
NetPosse ID #
: 2591
FOUND, do you know me?
Gender
: Gelding
Species
: Horse
Breed
: Paint
Description
: Indigo was found in great hands and it seems the woman who had him was also lied to by the seller when she asked if he had any liens or if he was stolen. The person who sold was the original person who bought him knowing he was stolen from Heather and Kendall Benton. So of course the answer was no. I drove down yesterday and made a positive ID, we worked through legalities and he is legally with notarized signatures my property once again! It feels so good to have him back where he belongs after three years of searching. The lady who has him is going to lease him momentarily (she runs a rescue) while I get everything step up at home for him. Rest assured have legal notarized paperwork for that too. She has done an amazing job with him. And my heart goes out to her because she had no idea we was stolen property. But thank you Lord. You didn't let me give up and my medicine hat special boy found his way home.
Area Found
: Sierra Vista, Az, 85650
Date Found
: 7/9/2019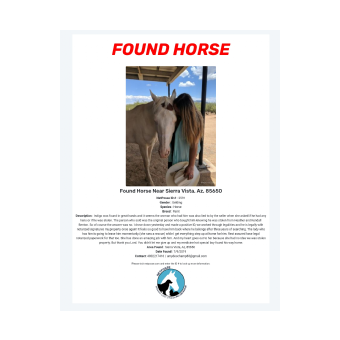 Attachments
There are no attachments to this entry.