Stolen Horse Near Lexington , Mo, 64067
NetPosse ID #
: 2569
STOLEN, have you seen me?
Name
: Cowboy
Gender
: Gelding
Species
: Horse
Breed
: Paint
Description
: Missing from our property just East of Lexington Missouri. No fence down. No gates open. No hoof prints on wrong side on fence. Other 7 are here. Cowboy is blind in hos right eye and has shaggy hair now due to a thyroid issue he needs medication daily.
Area Last Seen
: Lexington , Mo, 64067
Date Stolen
: 7/3/2019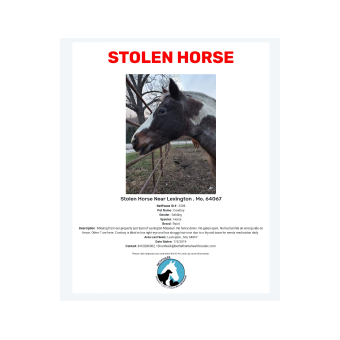 Attachments
There are no attachments to this entry.