Missing Horse Near milton, FL, 32570
NetPosse ID #
: 2550
MISSING, have you seen me?
Name
: Regalian
Species
: Horse
Breed
: Thoroughbred
Description
: Regalian - Chestnut TB Mare (tattoed) - was sent to an individual in Milton, Florida, with the understanding that mare would be in a satellite foster program under a rescue in Georgia. The owner had to reduce the herd due to health reasons, and this was one of the last horses that needed to be placed. It was understood that she would be adopted out with a contract under the GA Rescue, and so there was no reason to be concerned that the mare would be sold or sent to an unsuitable home. Stacy later learned the mare had not been rehomed where she had been told (to a lady in Bonifay, FL - now is told the person is possibly a horse trader) and that the GA Rescue had no knowledge of the horse being in its foster care. A witness has stated the individual in Florida offered her the mare at a price and without a contract, which clearly indicated the mare was being sold for personal profit and not being adopted as agreed. The individual in Milton has a documented history of questionable activity, and NetPosse has another pending report with this person in a similar situation. Stacy is offering a reward for return of the mare and possible finder's fee. If evidence is provided that the mare is in a suitable home, Stacy would consider leaving the mare where she is with an adoption contract as were her original intentions. Individaul in Milton claims no financial gain was made from this mare's transaction.
Area Last Seen
: milton, FL, 32570
Date Lost
: 4/19/2012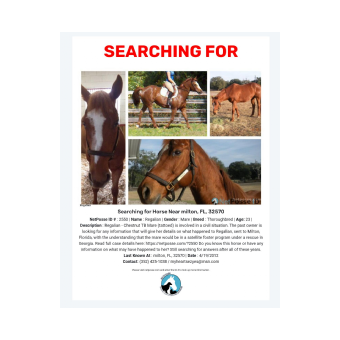 Attachments
There are no attachments to this entry.