Missing Horse Near Marion, NC, 0000 don't remember address
NetPosse ID #
: 2534
MISSING, have you seen me?
Name
: Phirlita Bey
Species
: Horse
Breed
: Arabian
Description
:
Lita was given to a friend to be a therapy horse. We verbally agreed I would be given first right of refusal. That did not happen. She has since been sold a few times.
Area Last Seen
: Marion, NC, 0000 don't remember address
Date Lost
: 9/9/2009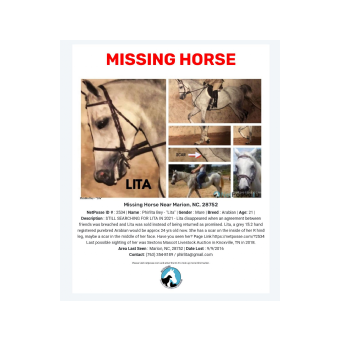 Attachments
There are no attachments to this entry.