Missing Horse Near Paris, KY, 40361
NetPosse ID #
: 2532
MISSING, have you seen me?
Name
: Irie
Gender
: gelding
Species
: Horse
Breed
: Thoroughbred
Description
: I had an 11yo OTTB 16.2/16.3H gelding with kissing spine that I tried to re-home with a guy, (ask submitter for name), as a trail horse for his 14 yo son, but follow-up attempts revealed that my horse was relocated, and Anthony has "disappeared", as has my horse.
Area Last Seen
: Paris, KY, 40361
Date Lost
: 12/6/2015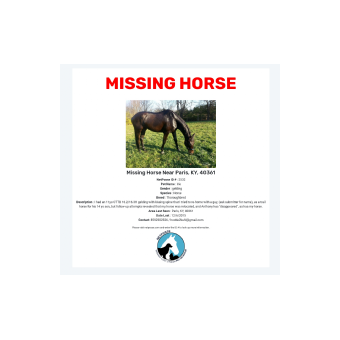 Attachments
There are no attachments to this entry.