Because of a Horse … Why I do What I do for NetPosse
By Angela Kirby (March 2010)
Forming a Bond with a Special Mare
Aspen was one of those special horses that really touches your heart. I first came to know this 16-hand, fleabitten gray Arabian mare around 1993, when a friend of mine, Terry, purchased her from a local horse trader. He asked me to help name her, something I've never been very good at doing, but somehow the name "Aspen" came to mind, and it stuck for the next 15-plus years, through several more owners.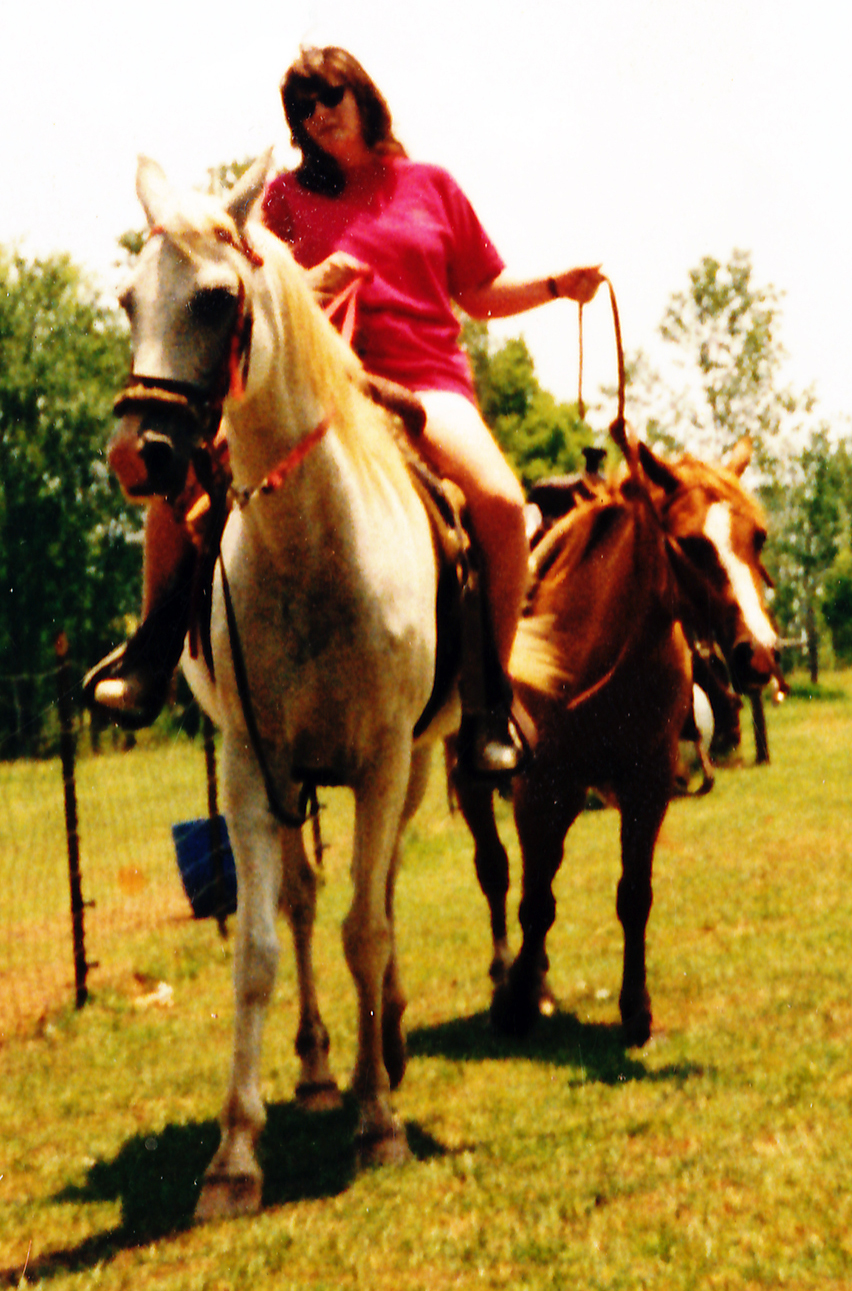 About a year later, Terry offered to sell me Aspen and another little sorrel quarter horse gelding. I took out a personal loan and bought both for $1,200. I kept the horses at a friend's place in the country, and we visited as often as we could.
I learned quickly that this mare struck a cord with everyone whose path she crossed. The horse dealer's daughter was even upset to learn her father had sold the horse to Terry as she had expressed an interest in keeping the mare for her personal horse.
It is somewhat of an irony that Aspen would pass through so many owners, since each of us admired this gentle, intelligent Arab. I am not a "mare fan" and this is one of the few where we developed a rapport.
A few months after I bought the horses, I got married. Then that next summer, I made the decision to sell the gelding. He was a sweet horse, but I was really the only one riding, so we found a good home for him. Eventually, my husband and I found a place of our own in the country, and we had a few acres for Aspen.
As most know, horses are herd animals, and I didn't want Aspen to be alone. Just before Christmas that year, my husband went back to the dealer from whom Aspen was purchased, and agreed to buy a beautiful black appaloosa stud colt for me. Buckshot and Aspen got along well, but he was not trained to ride yet. And while he was afraid of humans, he had a willingness to please.
Shortly after moving to the country, and only being married a year, I discovered that my husband was a prescription drug addict. That is another long story, but it had a tremendous impact on events that unfolded over the next year.
While my husband spent time in and out of rehab, I would ride Aspen in the front yard, usually in the evenings while my infant daughter slept in her crib. She was very well trained, and highly responsive. I would have her lope figure-eights, easily switching leads. The large mare would also stop and turn on a dime. I never knew much about her background, but I discerned that someone had put a lot of time into her training. I also suspect she was registered with the Arabian Horse Association, but that was never to be determined.
My husband and I didn't stay in the country long because our landlord refused to make adequate repairs to the house in which we lived. We couldn't have children around exposed wiring and a hot water heater that overflowed in the kitchen. So after only a few months, we found a house back in town and another friend's land for the horses. Needless to say, our landlord wasn't happy, but after four months we began packing since our family's safety was top priority.
During the move, our landlord drove by several times and saw us carrying furniture and boxes in and out of the house. The plan was to move the household items by that Friday then go to our friend's place and erect an electric fence that Saturday. Sunday was the day we had arranged to move the horses.
This was back in February 1996, and in Alabama, we don't experience really cold weather too often. So not only was there a summer drought that made it difficult to find horse hay, but this particular weekend we were dealing with temperatures in the teens. In order to have hay for the horses, we had driven four hours roundtrip to my grandfather's to pick up a load of hay. Our landlord had cutoff the water, so we had to haul water from the creek for the horses.
With the horses fed and watered Friday evening, we secured their sheets and blankets before leaving them in the open shed for the night.
The next morning we arrived to check on the horses and move the last of our items out of the house only to find the horses were gone!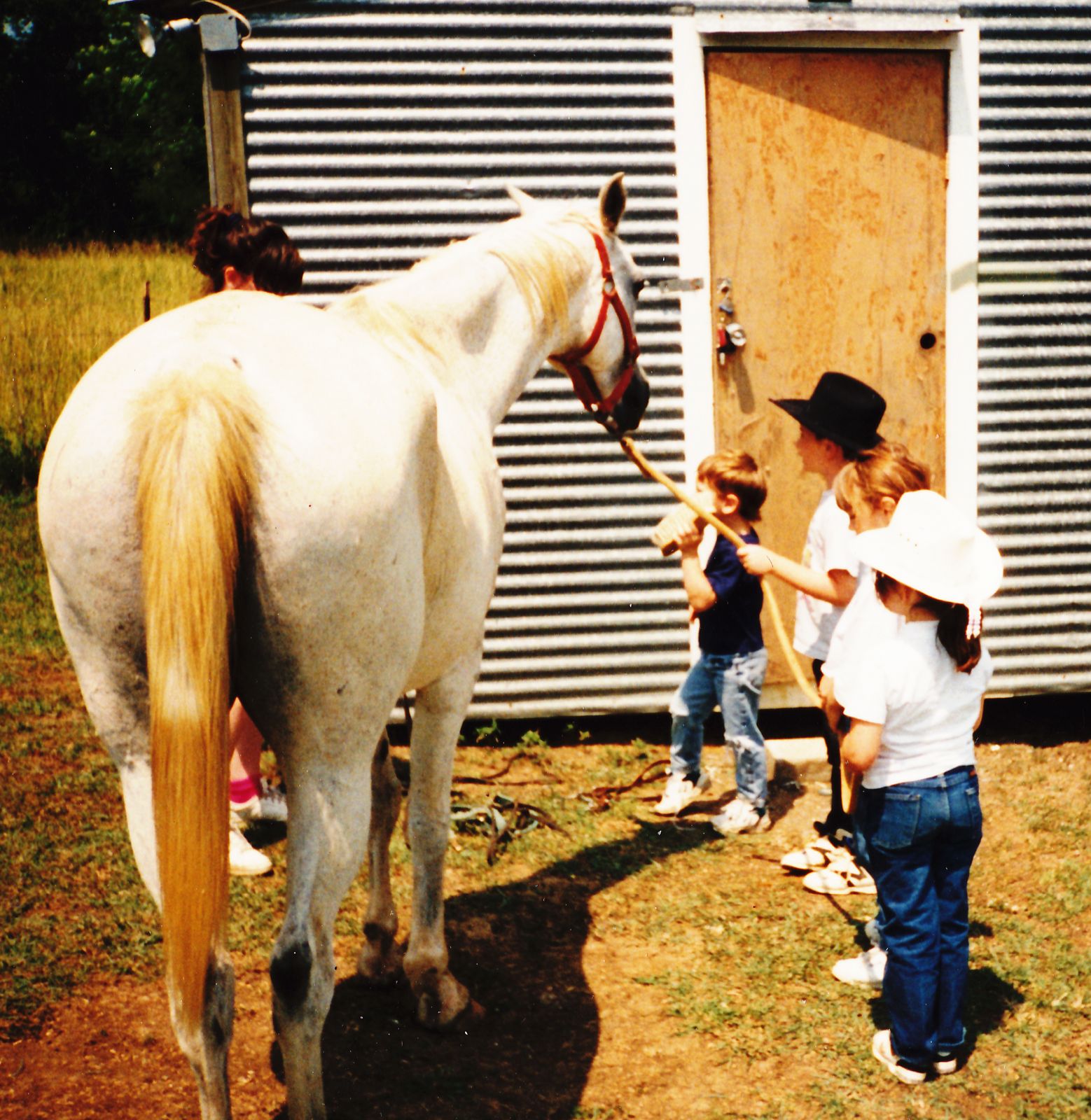 The Gall of Some People
I knew immediately that my landlord had done something with the horses, so I called the sheriff's office. They knew nothing about the horses being removed, and refused to help because it was a civil situation. We were on our own. Though we searched everywhere we could think of that day, I finally had to call and ask the landlord where my horses were. He admitted he'd had them picked up by the humane society and taken to the fairgrounds.
So at 10 o'clock that night, my husband and I arrived at the fairgrounds to find our horses in separate, unlocked stalls. Strangely, their sheets and blankets had been removed and they had no hay or water. This was completely baffling. It was late by the time we again hauled water and hay to them, and I drove downtown to the sheriff's office to find out what was going on.
The deputy I spoke to at the sheriff's office assured me that there had been no paperwork filed regarding my horses, and that I could legally remove the horses from the fairgrounds as long as I didn't break any locks. I immediately made arrangements to borrow a friend's truck so we could haul them first thing in the morning with our trailer.
In the meantime, my husband found the humane society officer who'd authorized the removal of the horses. He told my husband that they couldn't take them to their [humane society's] place because it was flooded. (After enduring a drought, it had been raining for weeks.) The officer then assured my husband that he was planning to do everything possible on Monday morning to return our horses to us. We were never given any paperwork regarding this incident and no reason as to why the horses were taken.
The next morning, we moved the horses to the friend's. They stood tied all day while we set up the electric fencing in 20-degree weather. It was because of this that I formed a bond with the appaloosa. I had to constantly stop what I was doing and untangle him from his rope. Eventually we finished the fence and turned Aspen and Buckshot out. During the time the horses were at our friend's, I worked enough with Buckshot to begin riding him under saddle, and I was really impressed with his gentle nature. He was over two, but had not yet fully developed as a stallion and never exhibited any stud characteristics.
Aspen and Buckshot remained there for about a month until we met a couple who managed a boarding barn close to where we lived in town. Frank and Mindy agreed to come to trailer the horses to their barn. Upon arriving, Mindy immediately stated, "These are the horses we moved for the humane society a few weeks ago. What happened in court?"
Shocked, I could only reply, "What court?" Mindy then proceeded to tell me that we should have had a court date and fine after they were picked up. I could only ask, "FOR WHAT?" After all, we had done nothing wrong. Those horses were taken from shelter, food, water and blankets to empty stalls. It had never made sense … until Mindy's next statement.
"Well, your landlord told the humane society they'd been abandoned by his tenants two weeks before that, and he had been giving them feed and water. We left a notice on your door that Thursday."
Holy cow … talk about dumbstruck. Our landlord had lied left and right because he was angry at us for vacating the uninhabitable property. The humane society officer had apparently left the notice on the same door our landlord seen us moving in and out of the day it was supposedly left. I can only deduce that he removed the notice.
At that point I was livid, but none of it really mattered. We had the horses, we didn't go to court or pay a fine, and that was that. Little did I know that I shouldn't have been so complacent.
Less than eight months later, Aspen and Buckshot disappeared again.
Déjà vu – or Same Thing Different Day
As I mentioned previously, my husband had an addiction. Unfortunately, he did not want help, so no amount of time spent in rehab was going to do a bit of good. Finally, I'd had enough, and we separated. While we were separated, Frank and Mindy advised the boarders that they were giving up the lease on the barn, and everyone needed to move their horses in 30 days.
I was not in a position to continue boarding two horses, so I contacted Terry to see if he was interested in buying Aspen back along with Buckshot. He agreed, but couldn't come up with the money immediately. I told him we'd work out payments, but I had to get the horses moved. When Terry arrived, I set out to find the horses. After 30 minutes of walking fencelines and searching 80 acres (most of it open), I had to reconcile that the horses simply were not there.
This couldn't be happening again! And again, I knew who'd taken them. When I called my husband, he and his father (also a prescription drug addict), refused to tell me where the horses were.
So to repeat the process in February, I called the sheriff's office. Deputies arrived and stated it was civil. I disputed the fact because there was a court order in place stating that the horses were my property (Alabama is not a community property state. Aspen was purchased prior to the marriage, and Buckshot was a gift to me), and my husband was forbidden from selling any property.
Regardless, I received no help from deputies, and I was on my own. While I do not recall what all I did the next month or so to locate my horses, it finally occurred to me to place an advertisement in the local trade paper that was seen in numerous counties. I included a picture of the horses, and stated that Department of Agriculture investigators could be called with any information.
That did the trick. The day the trade paper next printed, the horses were located. An older gentleman called investigators to say he had purchased both horses at a GOAT auction a few counties south. It was the only place that agreed to hold the horses until the next sale. He paid $875 for both of them.
Unfortunately, I couldn't just go pick up the horses since it was considered a civil case. In the meantime, my soon-to-be-ex and I were in family court because it wasn't just the horses that disappeared. During the divorce, I was harassed by his family, and he took the only car we had twice. It didn't matter to him that I was the one who needed transportation to work (he was not employed), and that I had three children to take to daycare and activities. The only thing he had to do at the time was his drugs.
Anyway, the judge decided that I had proven I owned Aspen prior to the marriage and Buckshot was a gift (though a year later my husband still hadn't paid for him). He ordered me to buy the horses back for a reasonable amount within 30 days or I would forfeit all rights to them. If, and only if, I bought the horses back, my husband would have to pay me $100 a month in "alimony" for the next 24 months. So I bought my horses back for $1,000.
But that wasn't the end of the story.
Getting My Horse Back Yet Again
The horses were taken to Terry's with the understanding that he would be paying me shortly. This would reimburse me for most of what I'd paid out at that point, but it saddened me that I couldn't keep the horses. Soon I heard from a mutual friend that Terry was going to give the horses to his children for Christmas, but yet he hadn't paid me a dime. At that point, I didn't anticipate any payment, either. I couldn't fathom repossessing the horses after the fact, so I quickly took action.
Not only had he not paid me, but the horses were kept in a small dirt paddock. Twice I had checked on them and there was no hay or water available. Not concerned about retribution from Terry, I moved the horses out of the blue to separate locations just up the road from his house. Since one of my friends couldn't keep a stallion (though Buckshot still hadn't dropped), I agreed to board Buckshot at another person's house. In exchange for six months board and enough cash to pay off Buckshot, I gave him Aspen.
But I also got a bonus out of the deal – a four-month-old few spot leopard appaloosa colt, which looked more like a donkey than a horse! The baby was sired by a friend's stallion that I'd wanted a foal off of for several years. The deal was somewhat odd, but except for the foal, the rest of it made sense and bought me time to see if I could at least keep Buckshot.
At the end of six months, I was satisfied that Aspen had a good home, and since I didn't have the money to geld Buckshot (again he hadn't dropped), I had no choice but to offer him for sale. That left me with just one horse to care for, and the sire's owner allowed me to keep him at her place since he was still a baby.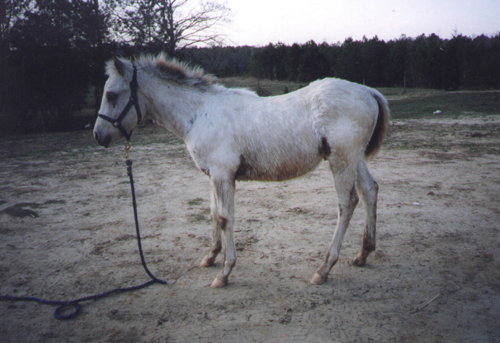 Several years passed, and I heard rumors of what had become of Aspen. She had been sold and had sand colicked at the new place. In the meantime, I still had the little appaloosa foal named Casper as he was almost solid white. I concentrated on him and began his training, never forgetting Aspen and often wondering about her.
Heartbreaking Decision
In March 2001, I was hanging out at our local rodeo, and I had watched a horse pass by several times. I finally stopped the rider and asked, "Is that Aspen?" You can't imagine how excited I was to find out that it was! And she was for sale!
Her current owner, Joy, told me that while she loved the mare, she had back problems and needed a smoother, gaited horse. Thus, she really needed to part with Aspen. This lady had saved Aspen's life after the sand colic and was very fond of her. However, she was also under the impression that Aspen was only 10. That wasn't possible as she'd been at least 10 when I had purchased her many years before. Of course, I didn't care about her age. The problem was, Joy wanted $1,500 for her. I just didn't have the kind of money even though I had several acres of pasture where I lived. So I had to walk away. But I still couldn't forget Aspen.
Another couple of years flew by, and again, I found myself watching this beautiful Arabian prancing around the rodeo grounds, but it wasn't Joy riding her. I finally stopped the young girl and asked if this was Aspen. It was! The girl riding was Joy's granddaughter, and Joy came riding up behind her on a gaited horse. I was thrilled to learn that Joy hadn't sold her, but that her granddaughter had been riding her everywhere – including parades. However, she really wanted to find a barrel horse for her granddaughter, so she still needed to sell Aspen. I was heartbroken because I still couldn't afford to buy her. This time, though, I gave Joy my number and told her to keep in touch.
We did keep in touch, and, in 2006, Joy and I both encountered life changing events. Facing retirement and caring for her mother, Joy decided she had to sell both of her horses. She offered Aspen to me for $500. I could have gotten the money at that point, but I no longer had a place to keep her. I had remarried, and we had to give up our place in the country and move back to town for various reasons. At the time, we had a herd of nine horses, and because of the circumstances, we had just given away five of those. A friend had offered me a 20-acre pasture for the other four, and I didn't feel it was right to put a fifth horse out there. Aside from that, Aspen was aging and had developing a skin irritation that reoccurred in summer months. I didn't feel as though I could give her adequate care as my pasture was 30 minutes from my home, and I wasn't able to get out there every day.
With a heavy heart, I had to say no, yet again. A few weeks later, Joy called to tell me that she had found Aspen a home. It really is a small world because I knew the people to whom she had given Aspen – the same people from whom I had bought the fleabitten gray Arabian gelding I had. I wanted to kick myself for not taking her, but I felt for myself and the horse, I had made the right decision. I assured Joy that they would take good care of Aspen as they were familiar with the breed, and I had seen the quality of care they gave their animals.
That was about three and a half years ago, and I have thought of Aspen so many times as life has continued to move on. I often wanted to know how she was doing and if that family might want to find her a home, especially in the past year as the economy and horse market have spiraled downward. However, I wasn't sure I wanted to know in the event they no longer had her or I was unable to take her this time around.
I didn't make it to the rodeo last year, but was able to go this year and visit old friends. Knowing that Joy had found homes for her horses, I was surprised to run into her with another friend of mine. We spoke of Aspen and how much she meant to us, and we both wondered how she was. I told her I'd try to find out – secretly I hoped that just maybe I could finally have her back.
However, again, it wasn't meant to be because the news I received wasn't the news I expected.
I had known for a while that the daughter of the lady to whom Joy gave Aspen was one of my Facebook friends, so I emailed and asked her about Aspen.
The answer I received was the very last one I expected, and I simply wasn't prepared. Aspen had been humanely euthanized only about a month prior. Clearly the lady felt horrible having to tell me that. Yet she was quick to assure me that Aspen had lived a good life. Her mom's niece had bonded with Aspen and taken her to live in her 50-acre pasture after she was married. Tragically, they found Aspen one day with her back broken. The vet surmised that a heavy tree limb fell on her. It was just one of those freak accidents. After concluding there was no way to rehab her to have any type of normal or quality life, the decision was made to let her go.
How One Horse's Life Impacts so Many
This is a tremendous loss, and I let the other lady know that I would contact Joy, as they had since lost her number. Telling Joy that night was incredibly difficult. We both cried and commiserated over the demise of this very special horse. As I write this story, I am thinking of Aspen, all of the what-ifs, and knowing that she never will come back to me. My heart grieves for this wonderful, sweet mare that touched everyone who ever owned her. Joy and I agreed that we could find comfort in the fact she was truly loved in her last few years. She didn't suffer from abuse or starvation like so many horses are today.
Those who aren't animal lovers cannot understand the attachment we humans can have to these four-legged creatures. Those of us who are do not need words to explain.
But Aspen's impact on my life was so much greater than just a love for an animal or missing that friend I had during some really hard times. Not only would I not have acquired Casper, who is now almost 14, and bonded with him, but her life was much more magnanimous than most can imagine.
Having Aspen and Buckshot stolen (even if both cases were considered civil theft) twice in one year unknowingly shaped my future. This happened in February and October 1996. In September 1997, a horse was stolen in Shelby, North Carolina. A year later, this horse was recovered. Because of Idaho's theft, Stolen Horse International was begun by her owners' Harold and Debi Metcalfe.
When I discovered Stolen Horse International on the Internet around 2000, I knew this organization was something I could relate to. Like Debi and Harold, I'd been there done that. I could understand and maybe help. So I joined the Yahoo Group, and spent the next few years volunteering where I could.
However, after meeting Debi at the Alabama Horse Fair in 2005, I knew I had to step up and do more … so I did. Since that time, I have been the Executive Coordinator of this incredible organization. While I do many tasks, including answering countless emails every week, Web site maintenance, designing promos, and speaking to horse owners about theft prevention, the largest and most gratifying charge I have is handling most of the stolen and missing horse reports received to post on its Web site, www.NetPosse.com. My volunteer work with NetPosse encompasses anywhere from 20-40 hours per week, often more. Like Debi, I am here to offer theft victims hope, to cry when a horse is found deceased, to rejoice when a horse is successfully recovered, and to worry over the many whose fate is still unknown. We constantly run the gamut of emotions with fellow horse owners we've never met.
People often state that there is always a reason why things happen in our lives. Many times we never know the reason and we question why. Well, I don't have to wonder or question why … I know now why Aspen was part of mine … I do what I do every day because of a horse named Aspen.