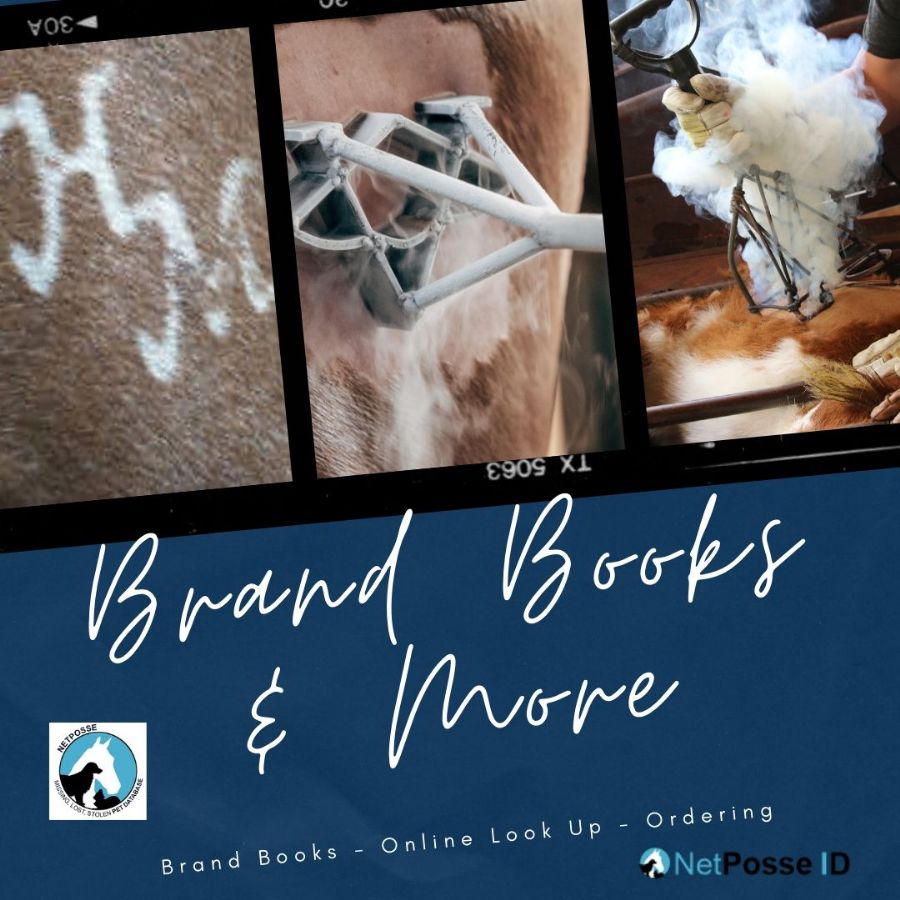 A livestock brand book records all of the registered livestock brands with a state or organization. Most of the states in the United States have branding laws that require brands to be registered before using them on an animal. The state agency is usually affiliated with the state's Department of Agriculture. Texas registers brands by county.
Do you think that all of the branded horses in the US are registered? The answer to that question is no. Many people nationwide to not register their brands even though many states have rules and regulations as to how a brand is to be made and require approval before the brand is placed on an animal.
Have you ever been to an event where a freeze brander is making up brands with irons on the spot for horse owners? Do you think those brands have been approved and are registered before they are placed on a horse?
There are some states that try to be very strict about their brand policies but enforcement of those policies, often the lack of enforcement, has more to do with the number of people employed to oversee the livestock brand program. Does each state have livestock investigators? The answer is no. When there are livestock agents and investigators is there always enough to cover the entire state everywhere all the time? The answer is no.
Laws and regulations may sound really good on paper and in theory, and sound like everything is covered well. Unfortunately, we have found that is not always the case. The few agents in each state cannot be everywhere and may even be hard to impossible to find when you need them.
RESEARCH A BRAND
Let's pretend that you just bought a horse with a brand. You want to know more about the horse and where it came from so you now need to find who the owner of the brand may be. Where do you start?
Of course, that depends on who sold you the horse. Did the horse have brand registration paperwork? If so, you start with the agency where that brand is registered. That is easy. What if that horse has no brand paperwork and the person who sold you the horse has information about the brand. What do you do then?
BRAND BOOKS, ONLINE LOOK-UP TOOLS, AND ORDERING
You can go the following website and find either brand books, online lookup tools, or ways to order brand books. Not all of the brand books are up to date. Many of the brand books can be found on the
www.netposse.com
website under the RESOURCES tab.
USA
Alabama Brand Book
Arizona Department of Ag Registered Brands 2019
Arkansas Brand Book
California Brand Book
Colorado Brand Book
Florida Brand Book
Hawaii Brand Book
Indiana Brand Book
Iowa recorded Livestock Brands
Kansas Brand Book
Kentucky Brand Book
Louisiana Brand Book
Illinois Brand Book
Mississippi Brand Book
Montana Brand Book
Nebraska Brand Book
Nevada Brand Book
Oklahoma Brand Book
Oregon Brand Book
Texas
Wyoming Brand Book
Canada
Alberta Brand Book & online search
Saskatchewan Brand Book