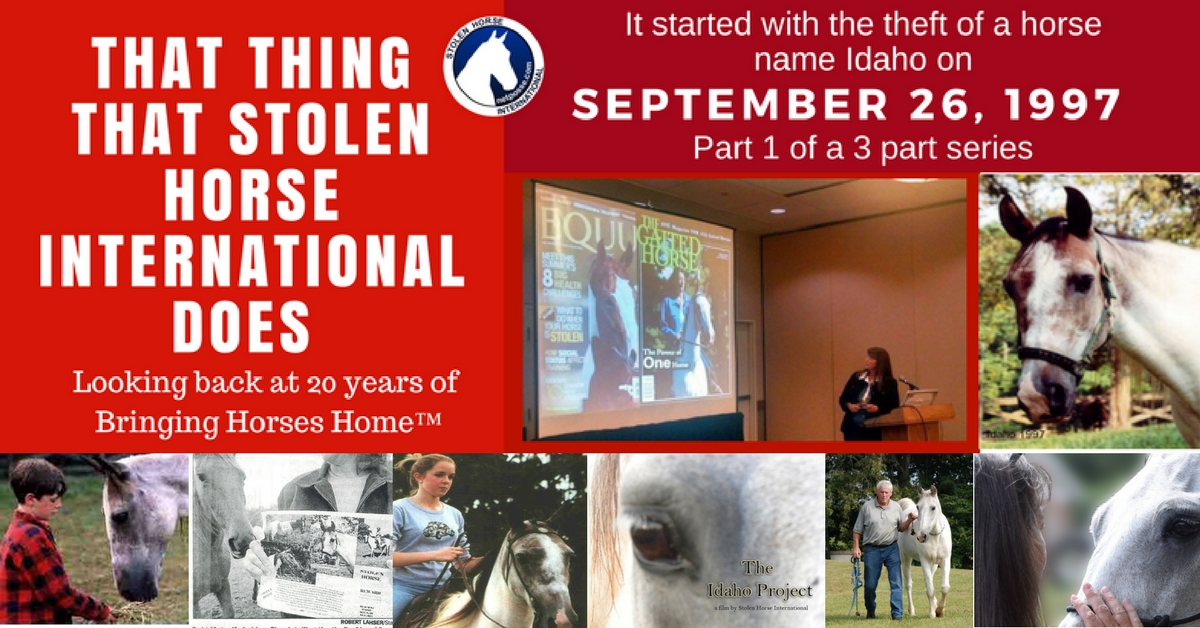 by Catherine Girard
(This article is the first article in a three-part series marking the twentieth anniversary of Stolen Horse International--NetPosse.)
September 26, 2017 - Stolen Horse International (NetPosse) is marking its twentieth anniversary this year of helping people find their missing or stolen horses! Founded on September 26, 1997, the organization has evolved over the past two decades from one couple's search for their own missing horse to a volunteer donation-based organization that has helped thousands of people reunite with their missing or stolen horses. I interviewed its founder, Debi Metcalfe, of Shelby, North Carolina, some of her core volunteers and the people they serve to reflect on how the organization has grown over the past two decades, where it is now, and the changes SHI now needs to make in order to continue helping the people and horses it was created to serve.
Hi Debi! Thank you for taking time out of your busy schedule for this interview today. Let's start at the very beginning. What were you doing in your life before founding Stolen Horse International (SHI)?
Debi Metcalfe: I was having a normal life. I was a mom raising two kids, I had my own insurance agency and I was very successful. I was making good money and working part time so I could attend my children's activities. We had horses we rode every weekend with a horse club and we were getting ready to buy a trailer with living quarters when my husband (and SHI co-founder) Harold's horse Idaho was stolen, and it all changed. I like to say that I didn't choose SHI, it was chosen for me.
Once you began SHI did you have any inkling of how powerful a driving force this organization would become in helping missing horses come home?
Debi: We didn't know we were beginning it. It began itself. When we put the first stolen horse report on the internet I was several months into looking for Idaho. We were doing everything manually, phone calls, flyers, etc. Then I met this nice techy gentleman who told me I needed to be doing this on the internet. I didn't know what the internet was, so he had me come over to his house and showed me what it was. He helped me start an AOL account which is still out there today with hundreds of thousands of emails on it. That's where the technology for building SHI began. He taught me how to search for things using the first word 'horse'. I went to every site I could find using the word 'horse'. I emailed everyone and sent them an attached bitmap flyer.
The organization began because people started to help me. Christine Berry Reese taught me how to change and send jpeg flyers. She did a one page website and she taught me how to use the URL link. Today our site is number one on all search engines. Other people came, it went around the world. Other people found out about it and said, "We'll help you if you help us because we have stolen horses, too." We found three other horses before we found Idaho. It was a group of people coming together that worked together. Idaho was found after 51 weeks. Vivian Graves helped me find Idaho by reminding me to follow every lead. Afterwards, the group got together and wanted to form a more formal group. I got elected to lead it. It is now a large group. Sometimes, people work with us for a while, go away, and then come back to help us. One example of that is Christine Barry Reese, who left for a while and then recently returned to help us with suggestions for our new National Disaster Animal database.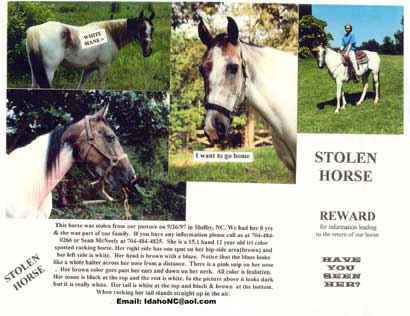 While I was looking for Idaho we received thousands of emails from people sending prayers. I do believe in a higher power, especially when we found this horse. I prayed, Please help me find this horse. Help me put my family back together. I promise I'll pay it forward. My mom died the month before we found Idaho, and she said to me, "You will find your horse." Those were the last words she said to me. My mom taught me to be strong and not give up. I have taught that to my own children, as well.
When we got Idaho back, we were standing in this parking lot behind this pretty white church in Tennessee, waiting for law enforcement to bring her out. Once they brought her out and returned her to us, I saw the steeple of the church rising from behind Idaho's back and I said to myself, I have a promise to keep.
What was your initial vision for SHI? Has it been realized?
Debi: For a while, I tried to continue this work as a hobby alone while working in the insurance business, but it became my passion and I found myself wanting to do more. So I left the insurance business and spent my time working for SHI. At this point, we were funding the group, putting $20K of our own money into it. Our CPA told us that to make it work as a legitimate business we should go as a non-profit organization and let other people help us. So, in 2003 we became a state 501(c)(3)) non-profit organization and in 2004 we received our federal certification. Because the IRS didn't know what to do with us because there wasn't another organization like ours out there, they classified us as a rescue. But because of what we do, we don't qualify for rescue grants, so we have to work on a donation basis.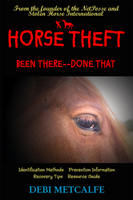 There were a lot of people out there with a lot of questions about finding missing or stolen horses. So, to pay it forward, and because I wanted to get back to riding my horse, I wrote this book about it titled, Horse Theft. Been There--Done That, which answered all the questions on how to search for a missing or stolen horse, and I went back to riding my horse. Nobody told me if you write a book you become an expert, and I began getting asked to do speaking engagements at horse council meetings and events. But I didn't think I was an expert. One day, I was speaking at a New York horse council event which had a photo of me next to a photo of a cover of Equus magazine with the title of my article, What to Do When Your Horse is Stolen projected up on the screen. The picture shows me glancing up at the photo. What I really was doing was looking at the photo and thinking, Huh! That's me! That was when I realized where I had come.
Today, I get up around 5 am and go to work. My clock is in my body, not up on the wall. Finding horses is about the group of volunteers coming together. We do the same thing now as we were doing back then with the technology that was available at the time. When Angela Beck came on, we really grew. She was a victim; her horse had been missing, too. A lot of the people that work for us are victims.
Working on this gave Angela closure. Without her we could have never realized what SHI could have become. It evolved out of a public need. Then we learned how people who stole horses learned about civil laws so they could get away with stealing horses. Only one state has civil theft laws, so we started the Civil Theft category. We were the first ones to sell microchips online to the public. We coined the VIN number for your horse phrase, sold the first microchip packages and started the first NetPosse Identification Program (NIP) Registry. We know that when you register a microchip (or any other type of equine ID) there is not always enough information to recover a horse. Our NIP registry covers many of the reasons the owner could not recover their horse. You register the microchip first with the microchip registry; then you register in our NIP all-ID registry on the website. Our registry is more of a record keeping registry for equine recovery. It gives you your "poorman's" copyright on the horse. There are three documents you upload, one being the bill of sale or your contract.

Over the past two decades I think we have had thousands of reports filed with SHI. We have gone through 6 different websites to get to where we are now, and each time we have changed we have had to drop off some reports so our website could change and grow. We dropped off 2,000 reports the last time the website changed. We have about 5,327 reports up on the current website and have worked with approximately 6,000 victims.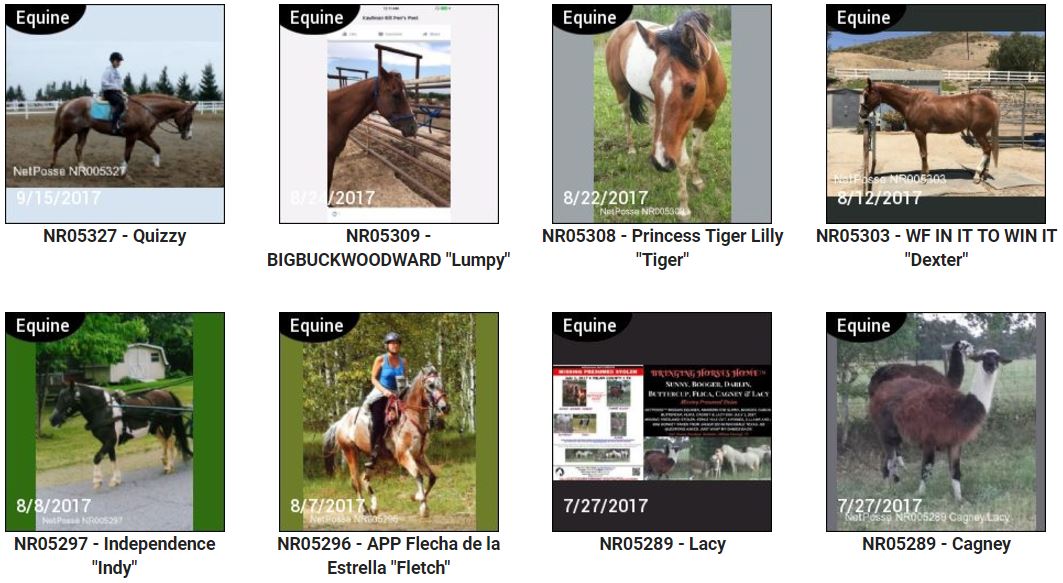 Every single case is important to us. Just because your horse has been gone a week doesn't mean it has gone to slaughter. Some of these cases have taken a long time to solve. We have two victims whose horses were missing 10 and 12 years each before they were found and returned to their owners. If there is a chance that that horse could be alive, we keep on searching for it. Our cases have come to us from searches and by word of mouth. We've run a recovery rate of between 33 to 51 percent depending on things that are going on.
What are some of the difficulties you have faced in starting, maintaining and growing this organization?
Debi: Funding, always; finding the volunteers to man the positions; dealing with irate people; dealing with antiquated laws; getting horses back to the people. But the biggest challenge is always funding. We are way underfunded. Our budget for meeting expenses and programs varies but is usually around $32K a year. We have had to cut back from a budget of $52k a year which has greatly affected our Educational Outreach Programs. I donate my time; Harold donates his time, but we still need to have our travel expenses covered. We have a 1999 minivan and a 2005 minivan. Each minivan has close to 300,000 SHI miles on it. Now we have to rent vehicles to go places for SHI, which is an added expense. We updated to our mobile ready website so people with cell phones can upload reports. That has cost a lot of money, but it has to be done to keep up with the technology.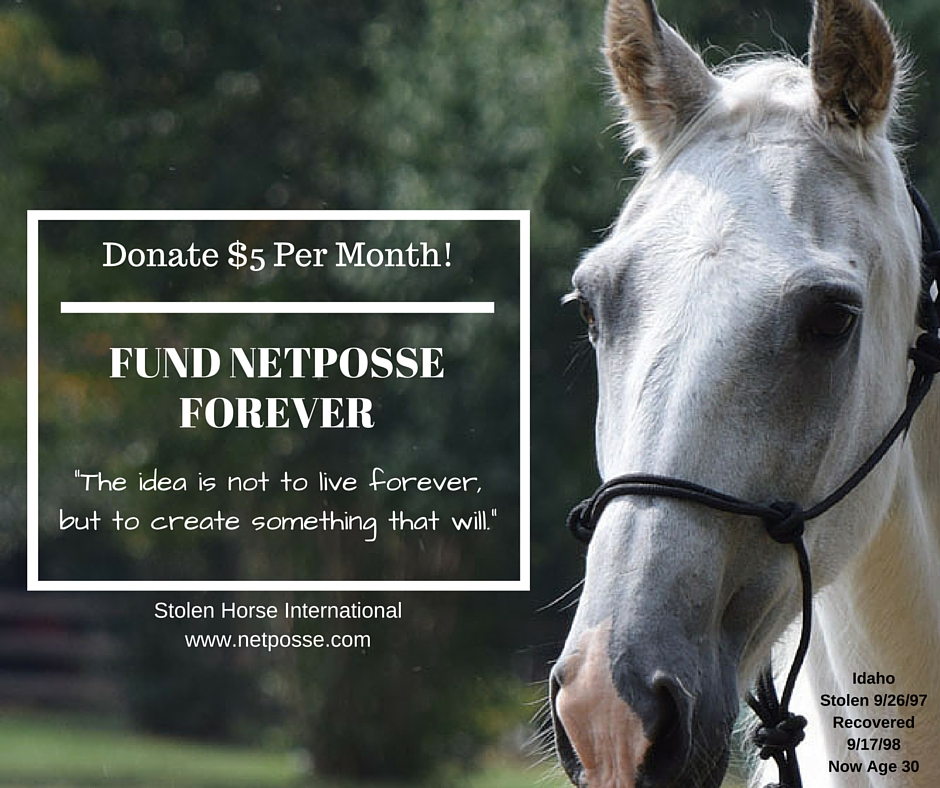 What are some of the high points you have experienced throughout your tenure as co-founder of SHI?
The first high point was recovering Idaho.
The second high point was finding the horse that came home after being gone for 10 years. We leave the closed reports up on the site for education and so you can read the victim's stories. In this case we gave law enforcement all the information they needed to seize the horse. That horse wouldn't have come home if we hadn't let that report stay up.
What are some of the low points?
Debi: One low point is the PTSD, the post traumatic stress that victims suffer when they go through what we went through. It changes you. You don't trust anybody anymore. The repercussions follow you through life. Recovery is how you fight back. SHI has a Facebook group, Victims Support Group Hosted by NetPosse.com, which is a closed group, open only to victims of horse theft. Here you can get together online with a group of people who have been through what you have experienced, talk among yourselves confidentially, and find ways to deal with and recover from this trauma.
Another low point is when victims we help forget about us once their horse is found. I guess the lowest point is people not appreciating the help they got from the volunteers that in the private sector they would pay thousands of dollars for if they had had to hire a private investigator. Some people pay us the reward money and then send us more. We always appreciate that. If everyone who owed us money paid it, we would have no financial problems. It's a sign of respect and appreciation of the work our volunteers do for them when they pay us what is owed.
Is there anyone you would like to give credit and thanks to for the success of SHI?
Debi: I would like to give thanks to my husband Harold, he is the unsung hero here and to my family. I gave up my high salary to do this. SHI changed our lifestyle tremendously and that of our children, both which have made sacrifices because of this work. Without their support I couldn't do what I do, I have told Harold that if it all gets to be too much, I am out today. He says, " Keep doing it. You cannot do this without support of family and friends." I have been offered other jobs, they hold no value to me and we do ok. We are not rich by any means but are fortunate to have most of our bills paid. Our 1999 van looks terrible. We bought it new but we have never had to replace the transmission and the motor still runs well. We do not take any money out of SHI, SHI pays for what we do with the organization. If it didn't we could not afford to be here helping so many people.
(In our next installment, we meet some missing horse and horse theft victims and hear their stories.)

Catherine Girard is a free-lance writer and a member of American Horse Publications.