FOR IMMEDIATE RELEASE
July 5, 2016
FOR MORE INFORMATION
Contact: Ashley Furst
202-296-4031
afurst@horsecouncil.org
Time to Ride, Microchipping and Putting Horsepower in Congress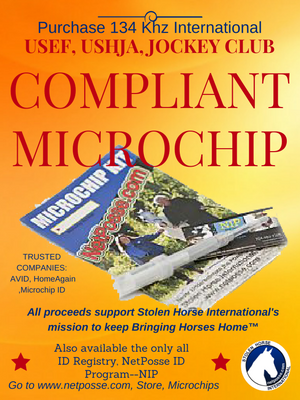 Click Image to Purchase Online
Also Available:
US Standard 125 Khz microchip
NetPosse Identification Protram Registry--NIP
(The only all ID registry in the USA)
(Washington, DC)- The AHC's Annual Meeting wrapped up on Tuesday, June 14th with the National Issues Forum, sponsored by Luitpold Animal Health. Presentations and discussions about the successful Time to Ride campaign and benefits of Microchipping kicked off the morning. Senator Pat Robert (R-KS) also spoke on the importance of the industry and hearing from constituents.
Christie Schulte of Lead Change Management Inc. and Marketing Manager of the AHC Time to Ride campaign, kicked off the session by providing an overview of the campaign and its goal to not only grow the horse industry, but to make the equine experience attractive and accessible to newcomers. She also gave an update to meeting attendees on the progress of Time to Ride in 2016, as well as the new programs and sweepstakes that were introduced this year. Most notably, Time to Ride will be working with the United States Equestrian Federation on the First Lady's "Let's Move" campaign to engage youth in as many Olympic sports as possible.
"I was delighted to share the success of Time to Ride over the last two years, which has introduced over 60,000 new people to horses," said Christie Schulte. "With the support of the AHC Marketing Alliance, Time to Ride's strategy continues to focus on growing the horse industry through programs that help horse professionals convert non-riding moms and families into equestrians, and eventually horse owners and participants in the industry. To meet and collaborate with the equine industry leaders present at the AHC Issues Forum was extremely valuable to the growth and success of Time to Ride."
Matt Iuliano, Executive Vice President and Executive Director of The Jockey Club, Mary Babick, Vice President of the U.S. Hunter Jumper Association, and Summer Stoffel, who serves on the USEF Horse Recording & ID Task Force Committee, spoke on a panel about benefits of microchipping. Each has been intimately involved in their organizations move to requiring microchipping.
"With microchipping, you don't have to worry about spelling the name correctly or what year the horse was born," said Matt Iuliano. "This would be a lot more efficient than dragging a clipboard around saying, 'Who is that horse again?' and being told, 'That's the horse we call Skippy.' Hospitals have leveraged this type of technology for years. You get a band and your entire history is attached to that band." Iuliano also discussed how pedigree, performance, and breeding histories could be attached to the horse's microchip number, creating greater ease of information transfer after sales.
"Consumer confidence was low," said Mary Babick. "The main goal of this rule was to increase customer confidence. It is far too easy to fudge a horse's age and/or reputation, which sometimes done very innocently and other times with the intention to conceal. Microchipping will begin the change toward more reliable horse identification, allowing horse owners and buyers to be absolutely sure of a horse's identity."
"The future of any industry is data," said Summer Stoffel. "Microchipping for horses has been used successfully in Europe since 2006 to monitor horse welfare, protect against theft, prevent fraud, track competition eligibility, and for tracing in the event of a disease outbreak. It is a safe, reliable, less painful way to provide permanent, unchangeable positive identification."
Senator Pat Roberts closed out the National Issues Forum by addressing one of the priorities that the AHC has been working on—the National Forest System Trails Stewardship Act. "The Agriculture Committee intends to take action on forestry related legislation, such as the National Forest System Trails Stewardship Act, which utilizes volunteers to help maintain access to priority trails on National Forest land," said Senator Roberts. "I understand that the American Horse Council supports this legislation along with a broad coalition of stakeholders. As you can see, we clearly have our work cut out for us over the next several months, and I look forward to continuing to work with our agriculture sector constituents to find resolution on these outstanding issues."