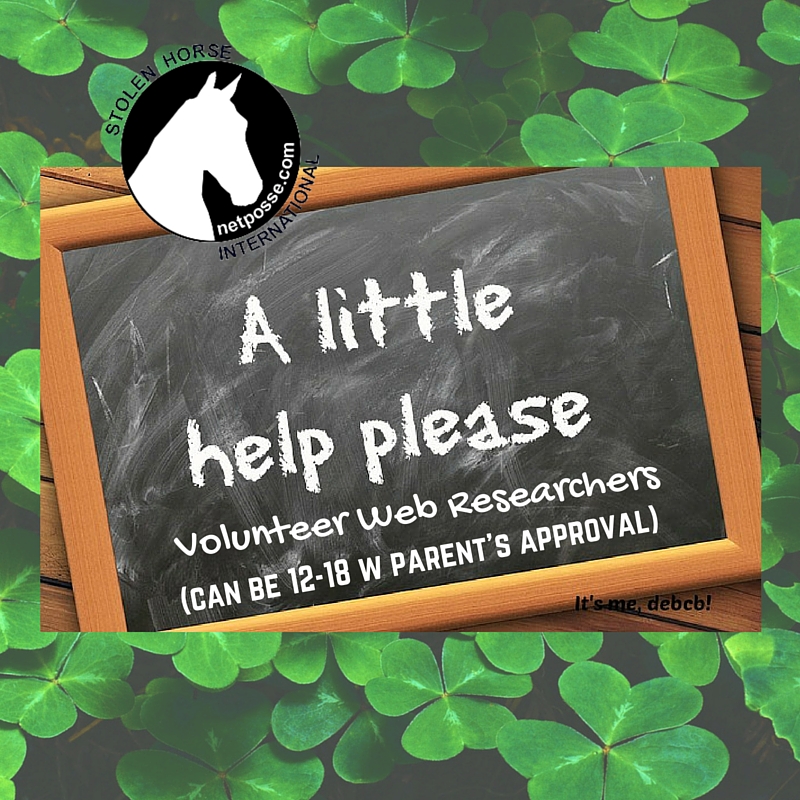 We are looking for specific kinds of information to help us with our work in looking for stolen and missing horses. This has never been done before-and most of it , quite frankly, we aren't sure what is accurate and what isn't. That's what we want to know.
In order to help us with this admittedly massive project (which we are breaking down into much smaller pieces), we need the help of many hands. That's where YOU come in. Every little bit contributed helped regardless of how small it might be. That's why we are saying ANYBODY can help us. Whether you only have 30 minutes a week or 30 hours a week-it doesn't matter. We need the help.
To be a volunteer-you MUST do the following:
go to the website www.netposse.com and click on the tab that says How to Help.
Then click on Volunteers and under the horse holding the sign, you will see a link that says Become a Netposse Volunteer
Follow all the directions given on that page completely. It will ask you what it is that you want to do for us-that's where you put 'doing internet research'. If you are under 18, please put the phone number of your parent so we can call and make sure you have permission to be on the internet. It's something we have to document.
Then go to Facebook and "friend' Ellen Wright-the one with the NetPosse logo-and PM her that you have finished all this. She will go over the volunteer form and get back with you.
(And, yes, you can do this with just a smartphone. We have one volunteer who has done simply amazing things that way. She uses a smartphone, a pencil (!), and a notebook. We've been astounded.)