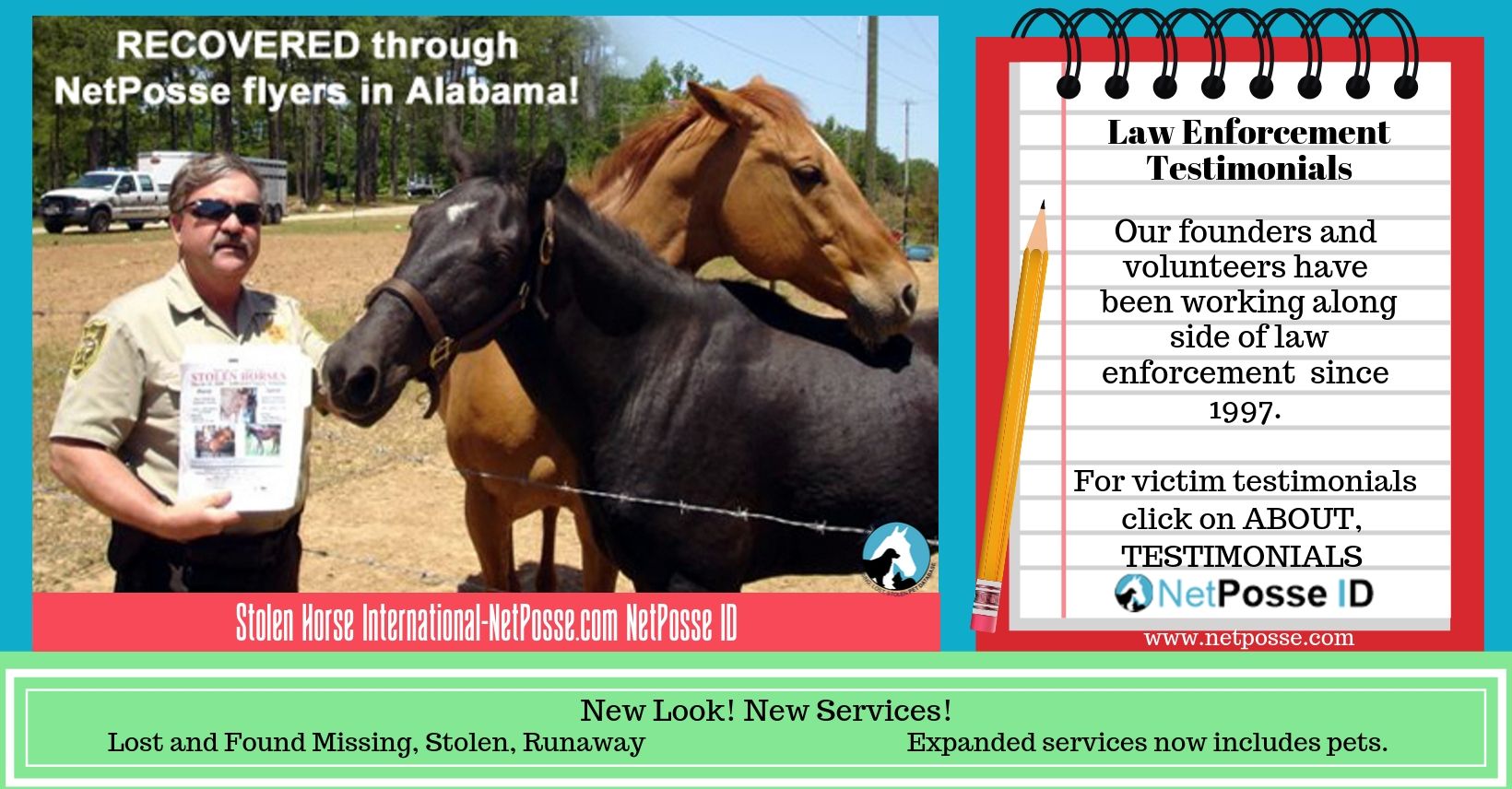 "The Mississippi Department of Agriculture and Commerce employs nine state certified investigators who investigate a wide range of agricultural-related crimes. Included in those crimes, are the theft of livestock, trailers and related-equipment and tack. In a number of those cases, the livestock or equipment is transported out of the area or out of the state. Stolen Horse International, with its Netposse.com, has proven to be an invaluable tool in going beyond all geographical boundaries in "getting the word out." Debi Metcalfe has proven time and again to be trustworthy and reliable in being able to share confidential law enforcement information so as not to hinder or jeopardize the investigation. Our agency looks forward to networking with Debi and Stolen Horse International in future investigations, as we have in the past, to reach a common goal of recovering stolen property and seeing those responsible punished for their actions." - Robert Jordan, Director of Mississippi Agricultural and Livestock Theft Bureau
---
"I have known Debi Metcalfe for approximately 14 years. I first met her through her organization, Stolen Horse International/NetPosse, when I was working Agriculture/Livestock Crimes with the Knox County Sheriff's Office, Knoxville, Tennessee. It was through her assistance I was able to recover numerous horses that had been stolen and was able to make arrests which resulted in convictions. Through the years she has developed a massive network dealing mainly with stolen horses and horse related items. She has developed an excellent reporting system and works very closely with the victims in getting the information out as well as the local law enforcement agency. People may think that as this is the 21st Century and not the 19th Century, but horse theft is a very profitable affair for those that think they can get away with it. A horse can be taken out of your pasture or barn, loaded in a trailer, and within 8 to 12 hours can be several states away and sold at an auction barn for either personal use or to a slaughter house. It is through Debi's and her volunteer staff's hard work this type of crime is abated by getting the information about the horse out for all to see. Some might have the mindset that it is just a horse, but to those that own horses, they are family to them just as your dog might be to you. Like all crimes, some are never solved, but Stolen Horse International through Debi's hard work has a resounding record of recovery. I would encourage everyone to help support her organization and her efforts." - T. Michael Cheaves, Det. Lieutenant/Retired, Knox County Sheriff's Office
---
"As retired law enforcement officers and currently training Mounted Police Nationwide, we feel the information and work being done by Stolen Horse International is of the utmost importance. We have worked many cases of stolen horses and so often before they are located the slaughter house is the ultimate end. SHI has made it possible to locate some of these victim horses sooner and boosted law enforcement capabilities. Also through their efforts, SHI has educated many law enforcement officers of this serious problem." Thank you to the SHI staff for their concern and efforts in making this a very successful program." - Terry and Darlene Geiser, Geiser Equine/Southern Police Institute-Univ. of Louisville, KY.
------------------------------------------------------------------------------------------------------------------------------------
"I have used SHI to help me attempt to track horses down and find some owners as well as check other locations clear across the country for destinations and other information. Debi does a wonderful job, and cut my work down considerably due to her dedication to her work. This is a wonderful resource to use and her ability and dedication make it an outstanding Law Enforcement tool to use. Contacting SHI is part of my department's plan of action in case of horse theft." - Dep. Matthew Lunsford, Deputy Sheriff, Preble County Sheriff's Office, Ohio
------------------------------------------------------------------------------------------------------------------------------------
"Not many people have the fortitude that it takes to do what you've done. Here you have taken a terrible loss, the theft of your own beloved animal, and turned that tragedy into a wonderful Silver Lining for other people with the same dark cloud hanging over them. Law Enforcement agencies all over the world are now turning to you to get information on stolen horses, trailers, saddles, and who only knows what else, because you had the courage to figure out a way to get your own horse back, and upon finding that it worked, you passed on your success to many others, who with your help, have managed to reunite many families.

I have passed your name and that of SHI along to many Law Enforcement officers that I know, knowing that one day should they need assistance from SHI, you will be there to help them solve their cases and bring the criminals to justice, who feel that they should help themselves to the property of others. You have become, Debi, the NCIC of stolen horses, and are well on your way, with your Micro-Chip I.D. program, the being the DMV of the horse world as well.

My hat is off to you and your family. I can only say that I am truly honored and privilege to have gotten to know and work with you over the years. Thank You again. ' - Herb Boykin , Livestock Deputy Retired, Brazoria County, Texas
------------------------------------------------------------------------------------------------------------------------------------
"My duties as an Agriculture Investigator with the Alabama Department of Agriculture and Industries involve the investigation of thefts of horses, horse trailers and tack. For the past several years I have utilized Debi Metcalfe's "Stolen Horse International" and the "NetPosse" group. Debi has assisted me on numerous investigations, she and her organization is a great resource for law enforcement." - Steve McBride, State of Alabama Livestock Investigations
------------------------------------------------------------------------------------------------------------------------------------
"In late November 2002, the Warren County Sheriff's Office received a report of a stolen horse from our county. I received the investigation and found that an adjacent county had experienced the same offense in recent weeks.

As I worked through the weekend Debbie Metcalfe found me! This was no small accomplishment as Mrs. Metcalfe was without electric in her North Carolina residence, due to an ice storm that affected her entire region.

As I recall I received a phone call from California form an associate of Mrs. Metcalfe late in the night on this particular weekend. I also received a call from an associate in Pennsylvania.

The information provided by these two allowed me to work with our victim and provide photographs and report information that allowed Metcalfe to assemble a poster of the missing horse.

Mrs. Metcalfe assembled the posters and distributed them, through her network, well past my reach locaitly.

She also provided a law enforcement contact from out of state that could provide some history of her past efforts and served as reassurance of her past efforts.

Mrs. Metcalfe's efforts took the investigation hundreds of miles from where the horses were stolen to where they would be located, eventually being returned to their owners, identifying suspects, and eventual prosecution of a suspect.

It is fair to say that without Debi Metcalfe and Stolen Horses International, the results of this investigation would not have been the same.

I have since had contact with Mrs. Metcalfe on at least three other cases and always welcome her information and input.

I would strongly encourage any law enforcement agency to welcome Debi Metcalfe and Stolen Horses International with open arms. I have personally contacted other agencies after learning of similar offenses in local jurisdictions and encouraged contact with Mrs. Metcalfe.

Mrs. Metcalfe is a professional and tactful in her efforts. She is a great resource of information and a relentless activist for her cause." - Sergeant Rick Logan, Criminal Investigation Division, Warren County Sheriff's Office
550 Justice Drive, Lebanon, Ohio 45036
------------------------------------------------------------------------------------------------------------------------------------
"You have found your goal in life---helping people find their loved ones - their four-legged loved ones their horse. You have comforted and made happy, so many people, with your generosity and hard work. You pay for things out of your family's money; you work tirelessly from early morning to late at night.

I have been in law enforcement for the past 30 years, and I presently investigate felonies, as an investigator for a large sheriff's department in the Commonwealth of Virginia. For that reason, I personally can relate to what you go through, in order to solve your cases, on a day-to-day basis.

You are the type of investigator that all victims are comforted to know. They know you always do your best! You welcome people to email you and even allow them to call your home telephone when they need to know someone cares about their loss.

I personally have one of your recently published books.

I would recommend this book " Horse Theft, Been There Done That" to anyone who cares enough about their horse to "try" and keep their beloved horses safe. You are there for the people even after the sale of the book is over!! I commend you for that!!

During the time I have known you, I have always admired your style, professionalism, and dedication to your mission of finding horses.

You are a great asset in helping law enforcement do their job. The stealing of a horse, in all the jurisdiction's I know, is a felony, which means the thief can be sent to prison when you or law enforcement tracks them down!! You're "never give up attitude" is a lesson to all of us!!

Debi, you have helped me a great deal. I want you to know it is a privilege and honor to know you!! Keep up the great work in finding horses and may GOD BLESS you and your family!!" - Jay E. Gregory, Retired Investigator, Virginia
------------------------------------------------------------------------------------------------------------------------------------
"I don't know if there is enough I can say to show express my thanks to Debi Metcalfe and Stolen Horse International. As a retired law enforcement officer, with over 17 years on the job, I know that there are very few agencies that have the time or the manpower to even attempt what she is doing for nothing!
Debi is the horse owner's first line of defense, and first and the best chance of recovering a stolen horse. I was inspired to start Equine Theft Investigators Network, just to give her an avenue of support for her website and for the victims of stolen horses. Her website is loaded with tips and insights on how to keep your horses safe, and how to help yourself find them if they are stolen.

Horse owners everywhere should be eternally grateful for all your efforts! Thanks, Debi!" - David Oncale, Private Investigator Oncale Investigations, California
Stolen Horse International
provides news and other resources for free on this website. As a charitable organization we survive on the kindness of people like you. Please consider donating to help fund the organization or purchasing a NetPosse ID for your horse, dog or cat to help protect your beloved animals!
Donate
Buy NetPosse ID