by Catherine Girard
In a recently published study (synopsis/study link) by Ethologist Léa Lansade and her research team at the French National Research Institute for Agriculture, Food and Environment, 11 three-year-old Welsh mares were able to correctly identify photos of their current handlers' faces on a computer screen 75 percent of the time when their handlers' photos were interspersed with photos of people the horses did not know, bumping their noses onto the screen each time their handlers' faces appeared. When the experiment was repeated using photos of handlers that had worked with the horses for 5 months and then had been absent for the 6 months prior to the study, the horses again correctly identified their faces in the same manner 75 percent of the time.
While this study proved horses' abilities to recognize their handlers faces through the presentation of photos alone, it brought to mind a concern often expressed to us at Stolen Horse International (SHI) by victims of stolen, missing or lost horses— when I see my horse again, I hope he or she remembers me.
Debi Metcalfe, founder of SHI, and Rod Vilencia, a former horse trainer in Southern California have graciously shared with us their experiences of reuniting with their own stolen horses, Idaho and Ariel.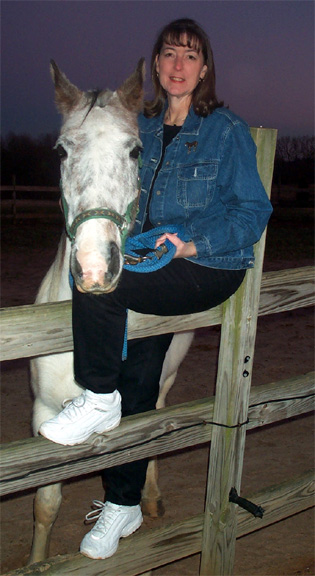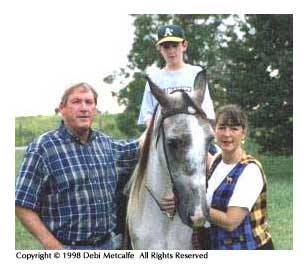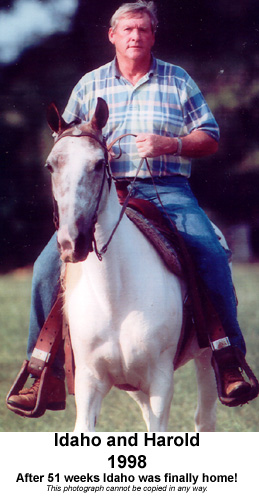 Debi Metcalfe: "Idaho was a Racking Horse. Before we got into Racking Horses we had always owned Quarter Horses and Arabians. Then we tried a Racking Horse, discovered the smoothness of the ride, and that was it. No more bump bump for us!
A friend, Dennis, who owned Idaho kept her and another mare, Secret here on our farm. Both of the mares were bred to beautiful stallions. A deal for us to keep one baby for payment of board had been made. Instead, Dennis kept Idaho's baby, Harold bought Idaho, and Secret and her baby, Honey remained here with us. So it was the three of them here.
Idaho was feisty and intimidating. When we got her she was spooky, untrusting and head shy. I had begged him not to get her—it wasn't the right time and she was too much of a project—but he went and did it anyway. She was his horse and they were very closely connected. She was with us for 9 years, and then on the day after we left for a trail ride, she was stolen. She was gone for 51 weeks.
When we recovered her (in Tennessee), we were standing across the road waiting for her from where she had been kept. Law enforcement had gone in to get her and they were bringing her out. We could hear her coming up the long driveway. We could see her when she came out of the trees but she hadn't noticed us yet. She was trotting up behind their Bronco, her head and tail was down like she was a Quarter Horse. This was not like Idaho.
I looked at Harold and said, "Whistle" and he did. She had heard that same whistle for 9 years. She turned her heard first, her head and tail came up, and then she lifted up and looked just like a hovercraft. She picked up the speed and started passing the Bronco on the right to get to Harold. If there had been traffic coming there would have been a problem because they had to pick up their speed just to keep up with her. She went right to Harold and put her nose on him. Everyone had tears in their eyes.
I handled her putting her into the trailer and it wasn't a problem. A friend called a friend in Tennessee to bring her home. The man who sold her to us picked her up in Fletcher, North Carolina and brought her to our home.
We could hear Idaho whinnying on the road. Once she got onto the dirt road leading to our house we could hear her stamping in the trailer and whinnying. The horses on the property all ran to the fence to greet her. She was so excited to be home she was backing out of the trailer before she was even unhitched. She was so spirited and so excited to be here! This time it was too much for me. I gave her right to Harold to handle. She's yours, honey!
We put her in a paddock with our pony, Charlie Horse, and he stayed with her that night while she socialized with the others over the fence. The next day she looked at the woods, looked around and took off on the path to the lower pasture. The rest of the herd followed her like they always did—without her they were too chicken to go down that path by themselves.
On that first night back, I sat here on the hill looking over the pasture and watched them that night, thinking that 51 weeks ago we lost her on the day after we went on that trail ride, and today, the day before we were scheduled to leave for that same trail ride again, we got her back. Looking back over the whole thing, there were just too many coincidences that really weren't coincidences at all.
Afterwards, we had a set pattern when we rode around the community. On her first ride back, we hitched up at the hitching post like we always did, went around on our ride, and on the way home she was racking up the dirt road. She escalated her racking pace and went right up to the basement door to have her saddle removed and touched the door with her nose, exactly the way she always did. This was the place we always unsaddled our horses. I have no doubt that horses remember."
***

Ariel was a buckskin Paint breeding stock mare owned by horse trainer Rod Vilencia of Southern California. She was 2 years old when she was stolen in Southern California. She was found in Oregon and returned to her owner 9 years later.
Rod Vilencia: "It took quite a bit of time for me to get Ariel back. When I did finally get her back I had paid people from Oregon to bring her to me in Southern California. She trailered down here with her 2-year-old filly and her 4-month-old red dun colt.
She was born in my arms. I had imprinted her good. She followed me all over the place and I spoiled her a lot—handling her ears, feeding her carrots and things. I had my hands on her a lot. I prepare my horses for what life as a domestic horse would be like.
She was on the trailer for 2 days coming down from Oregon. When she got off the trailer, yeah, she was like, Where in the hell am I? But once I got her into the stall with her colt and she was comfortable, she nickered at me. She hadn't seen me in 9 years, and yet I know she recognized me, recognized the sound of my voice. She definitely recognized me. And she definitely recognized my mom. When Ariel was a baby, my mom would come over. She visited Ariel and talked with her all the time. My mom was with me when Ariel came back. Debi Metcalfe was so instrumental in getting her back. If it hadn't been for her advice and her help I would have blown the whole thing.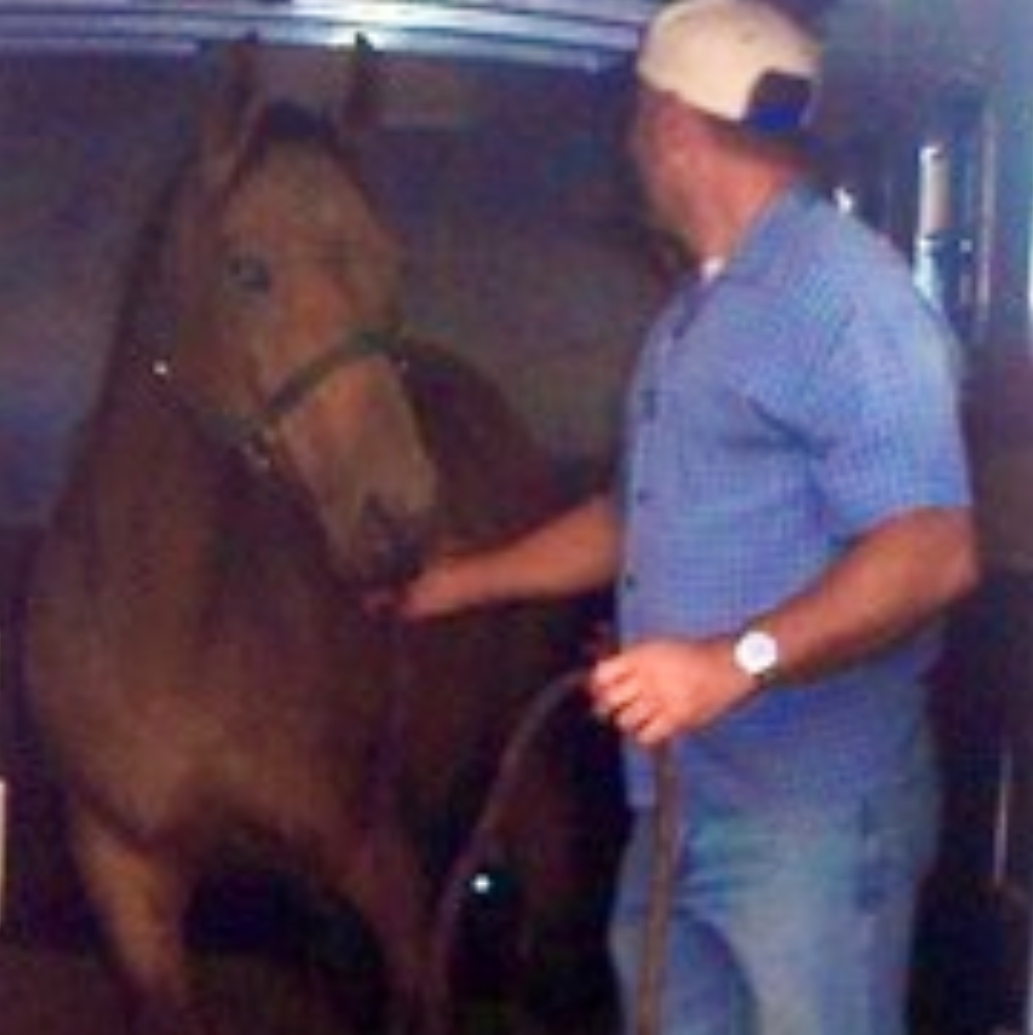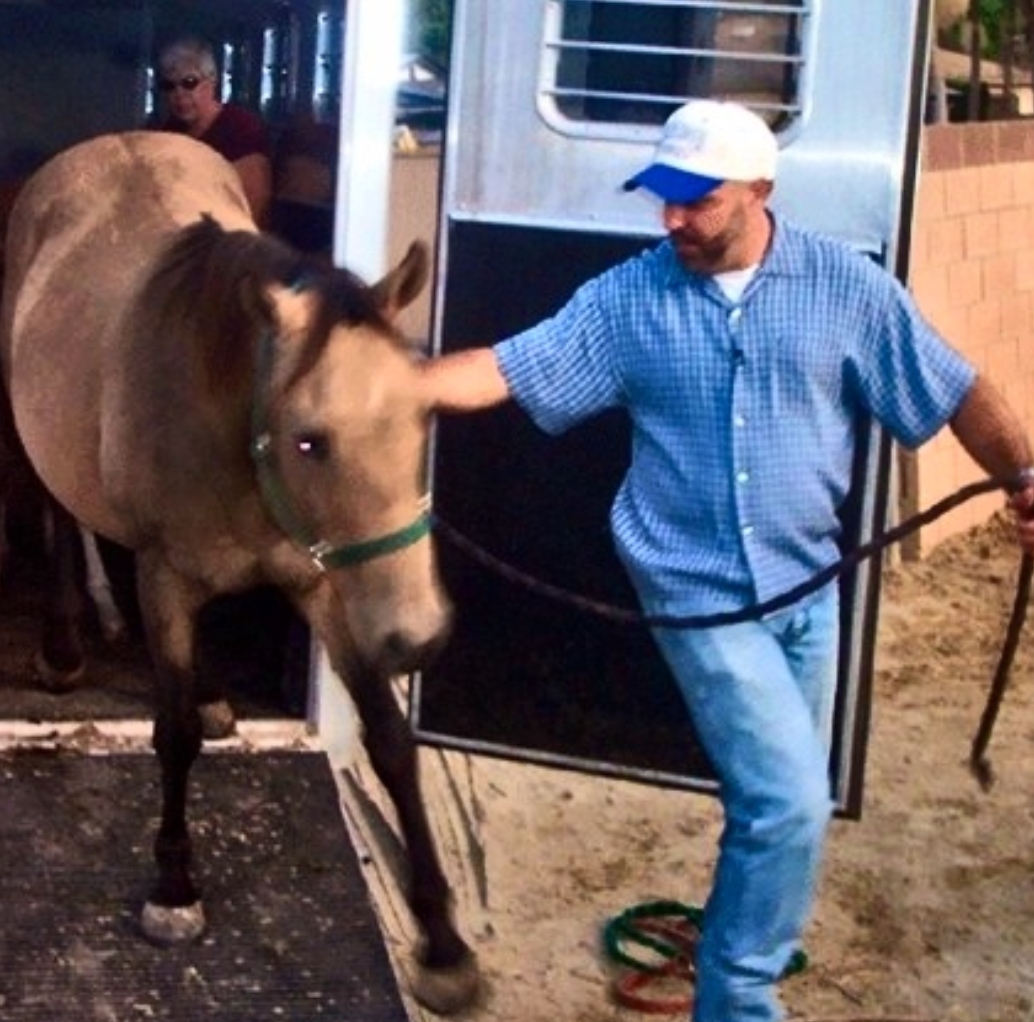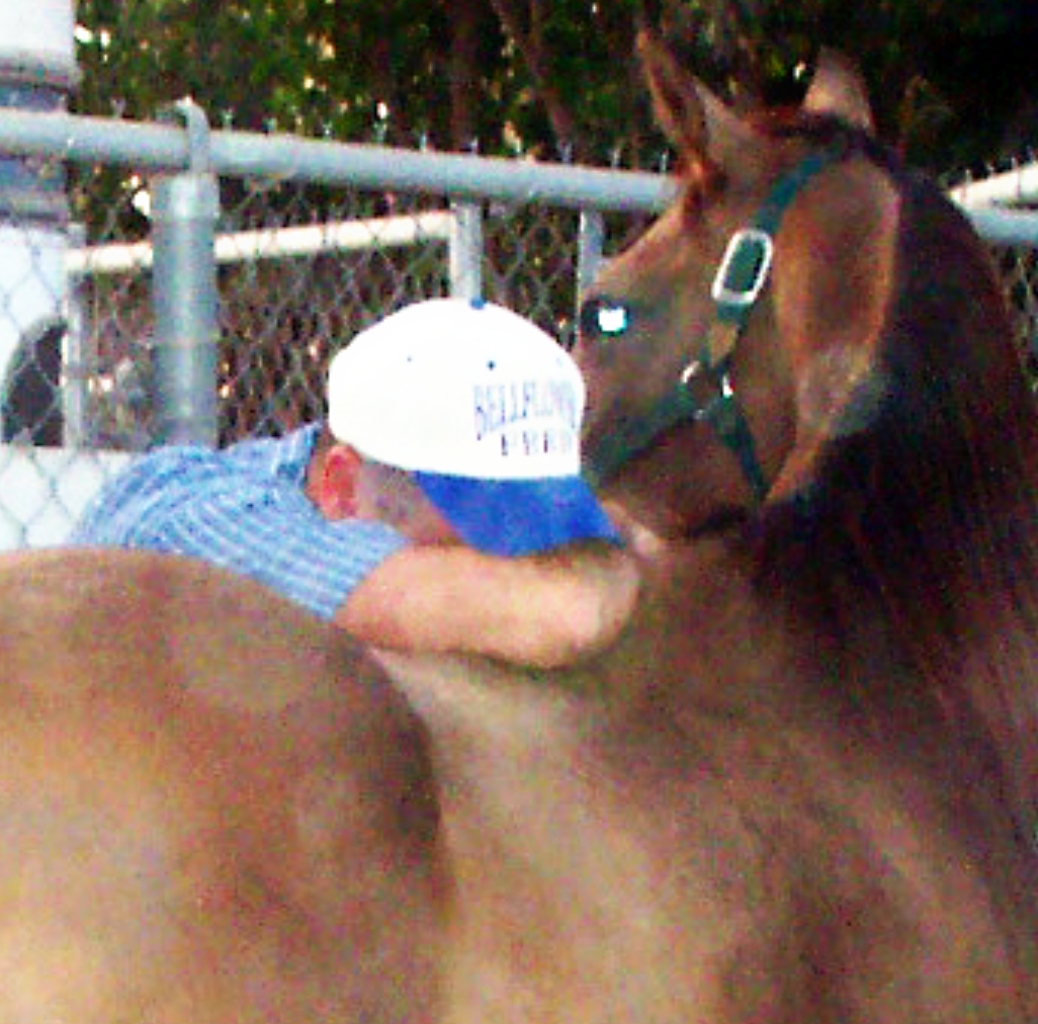 Herd animals, meaning horses to elephants and such, are forced to have strong recognition abilities. When they're out there, they are forced to know who is friend and who is foe. Domestic horses have retained that ability to remember who people are.
I was a horse trainer. I foaled out a horse and about 3 or 4 years later the owner called and asked me to come over to see his way of going. I called to him and he remembered me. I believe their recognition ability is strong. If I had not had that imprinting and bonding with Ariel, if I had lost a horse after only 2 or 3 months, then yeah, it might have been hard. But undoubtedly it was easy for her to see me, to smell me and remember who I am.
I lost her last year. She was lying in the barn with her head in my lap. I
was the first human voice she heard, and I was the last human voice she heard. I sat with her head in my lap and the vet administered the drug. I had completed the journey with her. She died when she was 28 years old. She had been through a lot. I got to be with her in the end. It was Kismet kind of thing.
I got my first horse at 5 years old. I will have them until I can't get up on them anymore. Her legacy is great. Every horse on my property is either her son or daughter, or her grandson or granddaughter. It's an incredible legacy.
I had her back with me from 2005 to 2019. Throughout that time she had her carrots, her baths, her health needs met, her turnout. It was a once in a lifetime thing, and I was grateful I could get her back. A lot of people said I should write a book, and I thought about it for about 5 minutes. I was so lucky to get her back and enjoy her. That was enough for me."
"We were there when Ariel came back to him," says Debi. "Someone had paid to have us flown in so we could see it. Seeing her returned to him was amazing. It was the defining moment of my career with SHI."